Buried Treasures: Tasty Tubers of the World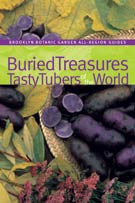 Take a culinary global tour of more than 30 edible plants that match their underground bounty with a fabulous aboveground display. Feature them as showstopping house or garden plants, or harvest a few and cook up tasty dishes.
Tuber Tales
Unearthing the Story of Tubers
The International Potato Center
Encyclopedia of Edible Tubers
Cooking With Tubers
Potatoes Versus Rice
Foraging for Wild Tubers
Making More Tubers
Buying Tubers
Tubers at a Glance
For More Information
Nursery Sources
Index
Corms, Rhizomes, Tubers, Tuberous Roots, and Bulbs
Potatoes and other tubers belong to a group of plants called geophytes, which hoard energy in fleshy, underground parts in order to survive unfavorable periods of the year in a semidormant state. The same underground parts fuel rapid growth and reproduction when climatic conditions are right. Cooks and gardeners casually refer to the delicious or merely edible carbohydrate-rich underground storage organs of geophytes as roots and tubers, but botanists prefer a more accurate terminology. They differentiate among corms, rhizomes, tubers, tuberous roots, and bulbs depending on which part of the plant develops into a fleshy storage organ and what its characteristics are, while recognizing that many of these structures exist along a continuum.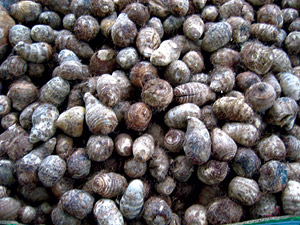 They may look like roots, but most of the underground edibles featured in this book are actually modified stems, including yautía, Xanthosoma sagittifolium. Photo: Liza Donatelli
Corms are solid, vertical underground stems that usually have a thin outer covering of papery leaves. Each year after flowering, the existing corm is replaced by a new one that develops on top of it. Jack-in-the-pulpit (Arisaema triphyllum) is a corm.
Rhizomes are swollen stems lying horizontally at or below ground level. Sacred lotus (Nelumbo nucifera) grows from a rhizome.
Tubers are the swollen ends of certain underground stems or roots. Yautía (Xanthosoma sagittifolium) arises from a tuber. Potatoes (cultivars of Solanum tuberosum) are also tubers. Earth chestnut (Lathyrus tuberosus) is a tuberous root.
Bulbs are reduced stems bearing modified fleshy leaves and one or more flower buds. Individual bulbs survive for several years and give rise to new bulbs from their disklike basal stems. Not counting the kitchen staples garlic and onions, true bulbs are not widely eaten and therefore not covered in this book.
Scott D. Appell is a regular contributor to Brooklyn Botanic Garden publications. He has edited the handbooks Annuals for Every Garden (2003), The Potted Garden (2001), and Landscaping Indoors (2000) and is a frequent contributor to BBG's award-winning Plants & Gardens News. He is also the author of four books: Pansies, Lilies, Tulips, and Orchids. He lives, writes, gardens, and teaches horticulture on the island of Vieques, Puerto Rico.
Alessandro Chiari has been the plant propagator at Brooklyn Botanic Garden since 1998. He studied tropical agriculture at the University of Florence, Italy, and plant science at the University of Connecticut, and he has worked as a horticulturist in Zambia, Paraguay, Chile, and Peru.
Beth Hanson is a former managing editor of Brooklyn Botanic Garden's handbook series and is editor of nine BBG handbooks, including Designing an Herb Garden (2004), Natural Disease Control (2000), Chile Peppers (1999), and Easy Compost (1997; out of print). She also contributed to Brooklyn Botanic Garden Gardener's Desk Reference (Henry Holt, 1998). She lives outside New York City and writes about gardening, health, and the environment for various publications.
James J. Lang is an associate professor of sociology and former director of the Center for Latin American and Iberian Studies at Vanderbilt University. He has done fieldwork on basic food crops in Latin America, Asia, and Africa. His recent books include Notes of a Potato Watcher, the story of cultivated potatoes and how they spread as a staple throughout the world, and Feeding a Hungry Planet, about rice production and the green revolution.
Leda Meredith teaches gardening and botany classes at Brooklyn Botanic Garden and at the New York Botanical Garden. She holds a certificate in ethnobotany from the New York Botanical Garden and is also an adjunct professor at Adelphi University. She is a professional gardener with both commercial and residential clients and leads wild edible plant walks in the New York City area. Her writing has appeared in The Herb Companion, Pointe Magazine, The Vu, and other publications.