Essential Tools: Equipment and Supplies for Home Gardeners
Faced with the abundance of good-looking equipment in stores and catalogs, it's easy to believe that you need it all. If you don't want to end up with a shed full of untouched gizmos and gadgets, you need to choose wisely. This no-nonsense guide will help you distinguish between the unnecessary and the essential. You'll learn to recognize the basic features of tools that will last you a lifetime. You'll find out exactly what you need to take care of everyday gardening chores, such as digging, cultivating, raking, pruning, and watering, and what it takes to accomplish more ambitions projects, such as installing a pond.
Introduction: Choosing the Right Tool for the Job, by Karan Davis Cutler
Starting Out: Basic Tools for Home Gardeners, by Karan Davis Cutler
Feed Me!: Supplies for Enriching the Soil, by Jake Chapline
Hose-anna!: Equipment for Watering the Garden, by Charles W.G. Smith
Sow Good: Supplies for Starting Seeds, by Peter Loewer
A Cut Above: Pruners, Loppers, Saws, and Their Relatives, by Cheryl Dorschner
On Garden Pond: Equipment for the Water Enthusiast, by Kathleen Fisher
Dressing Up: Ornaments in the Garden, by Barbara Perry Lawton
Sartorial Splendor: Outfitting the Gardener, by Sydney Eddison
Tools for the Mind: Books and More for Gardeners, by Sally Williams
Favorite Things: Experts Pick Their Can't-Live-Without Garden Tools
Open for Business: Mail-order and Online Source
Index
Introduction: Choosing the Right Tool for the Job
by Karan Davis Cutler
There is no record of whether or not an orchard ladder was used to pick the forbidden fruit, but in Paradise Lost, John Milton did observe that Eve was not
... with bow and quiver armed, But with such gardening tools as Art, yet rude, Guiltless of fire had formed, or Angels brought.
We don't know where Eve shopped, but we do know that stone implements were used two million years ago and that metal tools emerged in the Bronze Age. Exactly when a sharp stick became a dibble or a forked branch evolved into a hoe with a metal head is unrecorded. More complex tools appeared in the 17th century, but the design for nonmechanical garden implements was well set by the time of the Greeks and Romans. Tools that followed have been variations on these basic patterns.
That's not to say that there isn't anything new—or at least different—under the sun in the garden tool, equipment, and supplies department. A quick look at current catalogs turns up products that would not have been found at an agora: a Pine Cone Trapper from a "small shop just outside Sylvester, Georgia" and hinged "pick-up" rakes; Predator Pee ("100 percent fox, coyote, bobcat, and wolf urines") to protect your plants from marauders and the Original Bug Shirt to protect you against biting insects; stained-glass stepping stones and plastic water-lilies designed to sit on plastic lily pads; Victorian-style toad houses and Water Worms that "take the guesswork out of watering."
Equipment options for home gardeners are enormous. Look for tools that are versatile; they will last a lifetime.
To be fair, there are garden innovations that are terrific: The floating row cover is one of the great inventions of the last 50 years. New materials have made products stronger, lighter, and longer-lasting, and ergonomic tools have made gardening easier. If the job is both big and heavy, most gardeners don't complain about gasoline motors, even if they are loud, smelly, and hazardous.
Our equipment options have been enormous ever since the late 19th century, when a single company, such as C.T. Skelton (Sheffield, England), regularly manufactured three dozen different spades, most of which were available in a variety of sizes, weights, and styles. By the early 1900s, thousands of different spades and shovels were available. The trick then, and now—especially for new gardeners—is to choose wisely.
It's so darn easy to get carried away. Everything looks useful. Everything seems necessary. In fact, only a few tools are indispensable; significantly, most of them are versatile. A common garden hoe, for instance, is designed to cultivate the soil and remove weeds, but it can also form rows and furrows, pull soil over seeds, tamp soil, build mounds and beds, create ditches, hill up plants, clobber clods, and dig holes. Mark its handle and it's a yardstick. Swing it wildly and it's a weapon for discouraging the neighbor's cat from using your perennial Border as a litter box.
Deciding what to buy isn't your only challenge. You'll also have to choose between models, grades, and sizes of the same tool. But that's good news. If your garden is small and your soil fecund, you don't need an industrial-strength spade. If your back is persnickety, you'll want a long-handled shovel, not a short-handled one. If you're short on heft, choose a 1-gallon watering can, not a 3-gallon model. And don't be put off by terms like "ladies' spade," even if you've sired five sons. Be Goldilocks: Try several models and sizes, then settle on the tools that are "just right" for you.
You can spend a fortune on garden tools, equipment, and supplies. If you've got a fortune to spend, go to it! But where you live and what kind of gardening you do should also influence what you buy. In cold areas like mine, gardeners swear by cloches and cold frames; in hot regions, shade cloths and irrigation systems are commonplace. City gardeners living tooth-by-jowl with their neighbors may put barrel composters at the top of their list, while country gardeners throw their vegetable waste on a pile and spend their money on electric fences and rototillers. If your garden consists of window boxes or patio pots, you won't need a wheel cultivator, no matter how quaint the ads. Unless it's to serve as an ornament, of course.
Signs of Quality
Other than the space you plant, tools and equipment are a home gardener's biggest investment. But you don't have to break the bank, and you don't need every gizmo or gadget that packs store shelves and fills garden-catalog pages. Wise purchases will last a lifetime. Buy the best you can afford.
At the same time, don't be bamboozled by glossy catalogs that sneak a few appallingly expensive imported spades with teak handles in between French rose gauntlets and thatched birdhouses from Devon priced $100 and up. European garden tools are among the best, but exceptional equipment is manufactured in this country too, and is sold at local farm stores and nurseries and at national chain stores (look for brands that come with a lifetime guarantee). Don't forget mail-order companies that specialize in garden tools and equipment for ordinary gardeners not requiring imported marble obelisks and Edwardian hose reels. These firms offer the widest selection of domestic and imported garden tools and equipment.
Prices differ rather shockingly, so compare and shop wisely. For example, the price of a Felco #2 pruner, the most popular model of the most popular pruner, ranges from $33.50 to more than $50. Unless a firm is having a going-out-of-business sale, though, there aren't many "deals" on garden tools. Cut-rate prices usually mean cheaper construction. Before you reach for your wallet or credit card, take a good look at the item's materials and craftsmanship.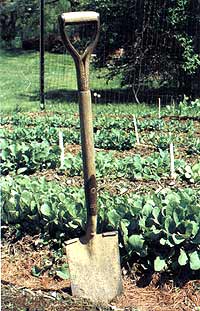 Look for a handle that's not painted, so you see that the wood is knot-free and runs the length of the handle.
Handles
Spade, hoe, rake, lopper, whatever, most gardeners should look for handles made of hardwood, such as ash. The grain should be knot-free and run the length of the handle. Softwoods are commonly used in inexpensive tools. Avoid them, and beware of handles that have been painted, a ploy used to disguise softwood.
Tools with steel handles are designed for professionals. They're stronger than wood but more costly, and most home gardeners don't need their extra heft. Fiberglass, solid-core fiberglass, and wood/fiberglass composite handles are light and strong but will boost the cost of a tool by at least one third.
Metals
Today the best garden tools are made of high-carbon steel. Keep your eye out for the words "heat-treated," "forged," "drop-forged," and "tempered." Avoid anything made from "stamped steel," which is less strong. Nor do you want spades, shovels, or forks—tools for big jobs—that are made from aluminum, although aluminum is suitable for trowels and other small hand tools.
Stainless steel tools have great cachet. They don't rust, but they're too expensive for most mortals and no stronger than high-carbon steel. And though stainless steel tools hold an edge better than high-carbon steel tools, they are extremely difficult to sharpen. Don't be tempted.
Connections
The soft spot of most garden tools is the connection between handle and head. Cheaper tools come with either open-socket construction (the handle is half-wrapped in a short welded metal collar that's open in the back) or tang-and-ferrule construction (the metal head has a prong, or tang, that is inserted into the handle, and the connection is wrapped with a short metal collar, or ferrule). High-quality tools join handle and head with a solid-socket or solid-strap connection (the handle is inserted in a long metal collar and secured with pins). This method makes tools heavier, but the gain in strength offsets the gain in weight.
Motor Matters
Gasoline- and electric-powered tools are beyond the scope of this book, but there are two power implements that are indisputable time- and muscle-savers: rototillers and chipper/shredders. You can garden for a lifetime without owning, or even using, either. But if you have illusions—or delusions—of garden grandeur, power equipment offers major-league advantages. Now, however, you're into spending serious money, credit card charges in four figures for large, powerful models, and you're talking noise, air pollution, and motor maintenance.
If your first instinct is, "Don't go there," but you dread hours spent with hand tools, consider renting power equipment. Or organize a group of friends and make a mutual purchase. Cooperative ownership has its pitfalls. Just remember that you invested $250, not $2,500, and be patient when a co-owner forgets to refill the gas tank.
And So Forth
Finally, not all garden equipment has to be relentlessly practical. An item I wouldn't do without is a New England weather stick, a 10-inch debarked branch with a bit of base wood attached, which you nail on a protected outdoor wall. On good days, the branch points up, and in rainy weather it points down. It tells you what you already know. A masterpiece of low technology.
And don't overlook garden ornaments, traditional or whimsical. A sundial, perhaps, or a hummingbird sculpture that moves with the breeze, or a woven bee skep. I have a jaunty wooden sun medallion, made by a Vermont chain-saw artist; and whirligigs, while not especially practical, are colorful and fun. It's your garden, so add anything that strikes your fancy. But be careful when shopping for garden ornaments. The English garden writer Beverley Nichols once set out to buy a simple sundial and came home instead with an 18th-century stone balustrade, "60 yards of solid rock." Buyer beware, indeed!