The Natural Water Garden: Pools, Ponds, Marshes & Bogs for Backyards Everywhere
There's more to water gardening than the conventional water-lily in a tub. This book divulges the secrets of growing the delicate aquatics that float on the still, smooth surfaces of ponds, the brilliant cardinal flowers that grace marshes with startling splashes of color, the intriguing carnivorous pitcher plants that live in spongy quaking bogs—and much more.
The Natural Water Garden, by C. Colston Burrell
Wetland Ecology for Gardeners, by Leslie Yetka & Susan Galatowitsch
Freshwater Wetlands of North America
Constructing a Wetland Garden, by Judy Glattstein
Planting & Maintaining Backyard Wetlands, by Fred Rozumalski
Natural Water Gardens: Pools & Ponds, by Carol Franklin
Natural Water Gardens: A Stormwater Marsh, by Craig Tufts
Natural Water Gardens: A Bog Garden, by C. Colston Burrell
Natural Water Gardens: Stabilizing & Restoring Streambanks?Naturally, by Thomas S. Benjamin
Wetland Plants for the Northeast & Middle Atlantic, by Judy Glattstein
Wetland Plants for the Southeast & Deep South, by Logan Calhoun
Wetland Plants for the Midwest & Great Plains, by C. Colston Burrell
Wetland Plants for Western Mountains & Pacific Northwest, by Dan Hinkley
Wetland Plants for California, by Robyn S. Menigoz
The Natural Water Garden
by C. Colston Burrell
My most memorable wetland experience ever was on a floating mat of sphagnum moss in a quaking bog in Maine. I had walked out through a veil of spruce lining the basin's perimeter onto a vast, undulating mat of red and green sphagnum. The moss stretched out as far as I could see, interrupted only by clumps of spruce that huddled together on elevated hummocks. Standing amidst that seemingly infinite, trackless bog, I felt dwarfed.
When I finally glanced down at my feet, I discovered that I was surrounded by the two carnivorous plants I had come to see. Partially buried in the lush moss were the blood-red, water-filled vessels of the purple pitcher plant. Carpeting the ground around them lay the dewdrop-studded leaves of the sundew. Like flypaper traps, these tiny plants were lying in wait for the slightest movement of a gnat to trigger their dew-drenched tentacles into motion and finally push the struggling insect down onto the leaf, supplying it with valuable nitrogen.
It was the mysterious allure of these unique plants that led me as a boy to that enchanted place in Maine. Once there, however, I also discovered delicate arethusa and grass pink orchids, floating branches of horned bladderwort and shrubs with leather-like leaves, including leatherleaf and bog rosemary.
Often, it takes an initial connection to an orchid, a bird or a plant to inspire a person's appreciation of wetlands. Once appreciated, it's more likely that wetlands will be preserved. Wetland gardening is another way of bringing people into contact with the plants and animals that make up these vital ecosystems.
To untrained eyes, wetlands look messy and chaotic. Rank growth and the threat of mosquitoes contribute to the general perception that wetlands are an eyesore and a nuisance. Therefore, when designing wetland gardens, it is important to give them a cultural and aesthetic context, to make these landscapes more accessible to people who are unfamiliar with them. Cultural context can be provided by including familiar, colorful flowers such as iris, or by recognizable planting patterns such as bands or rows. It is also important to establish discernible boundaries between the wetland garden and the rest of the garden.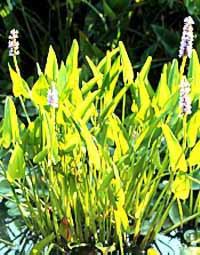 By mimicking the structure and functions of a native wetland, you can create a water garden that is beautiful, biodiverse and easy to maintain.
Why is it so critical for people to appreciate and preserve wetlands? Ecologically, wetlands are essential for several reasons: As habitats, they are home to an extraordinary array of species, including birds such as bitterns and wrens and animals including mink, otter, frogs, turtles, butterflies and dragonflies. They are also nature's flood-control systems.When dispersed properly throughout an ecosystem, wetlands can soak up excess water produced by storms and gradually release it, thereby reducing or eliminating flooding. Where wetlands are filled in and paved over, flood waters run quickly over the impervious landscape, gathering volume and power as they go. When this concentrated water finally reaches streams and rivers, it can cause them to flood. What's more, by collecting water that would otherwise run off into streams and rivers, wetlands also replenish aquifers and groundwater supplies.
The Natural Water Garden takes an ecological design approach to water gardening. It focuses on methods of mimicking the structure and functions of natural wetland systems and creating residential water gardens that are both biodiverse and easy to maintain. "Wetland Ecology for Gardeners" introduces the wetland ecosystem, discusses the structure and function of wetlands and describes how you can use this information as a basis for your own natural water garden. "Constructing a Wetland Garden," "Pools & Ponds" and "A Bog Garden" are among the chapters that offer practical tips and techniques for building ecological water gardens, along with specific case studies of various types of backyard wetlands. Finally, this handbook provides recommendations for plants best suited to specific wetland types and sites around the country.
There is one caveat even for gardeners taking an ecological approach: Wetlands are protected ecosystems, generally under state jurisdiction. Before making any alterations to an existing wetland on your property, check with the appropriate state agency, usually the department of natural resources or environment.
When you bring water into the landscape, you add more than an aesthetic flourish. You create an ecosystem. With care, that ecosystem can both thrive and inspire appreciation. In time, a chorus of spring peepers, the glint of gossamer dragonfly wings?and the knowledge that you are helping the environment?will justly reward your efforts.