The Potted Garden: New Plants and New Approaches for Container Gardens
Anything that can hold soil can become a home for plants—from classic terra-cotta pots to leaky soup tureens, from precious vases and antique urns to discarded tubs and heirloom baskets. Imagine a vast patio landscape, a small vernada planting, a miniature alpine roof garden, a luxurious water garden, some strawberry jars brimming with herbs, or one solitary pot. This book tells you everything you need to know to design, plant, and maintain a beautiful potted garden planted with annual flowers, ornamental perennials, herbs, mini-vegetables, shrubs, or even small trees.
Introduction: The Potted Garden, by Scott D. Appell
Container Gardens

Unusual, Antique, and Collectable Containers, by Scott D. Appell
Building Window and Planter Boxes, by Bill Shank
Formal Arrangements in Classic Containers, by Richard R. Iversen
Hanging Gardens, by Ellen Zachos
Water Gardens in Small Containers, by Scott D. Appell
Hardy Cacti and Succulent Gardens, by Ellen Zachos
Alpine Adventures, by Abbie Zabar
Unusual Plants for Pots
Hardy Shrubs for Containers, by Gary R. Keim
Drought-Resistant Plants for Pots, by Ellen Zachos
Unusual Herbs for Containers, by Scott D. Appell
Miniature Vegetables for Container Gardens
Container Gardening Tips
Soil Mixtures, Potting Strategies, and Other Considerations, by Gary R. Keim
Overwintering Potted Plants, by Shila Patel

USDA Hardiness Zone Map
Suppliers
For More Information
Contributors
Index
Introduction: The Potted Garden
by Scott D. Appell
Growing plants in contained soil is nothing new. In fact, the practice has a long and remarkable history. Carved scenes on the limestone walls of an Egyptian temple at Deir el-Bahri, which date back 3500 years to the dynasty of Queen Hatshepsut, depict frankincense trees growing in pots. The famed Hanging Gardens of Babylon were built under King Nebuchadnezzar II, who ruled Babylon (near modern-day Baghdad) in the 6th century BC. These immense rooftop gardens (installed for one of his wives, who was homesick for Persia) were so large that the paths within them could accommodate two chariots passing each other. The ancient Romans grew shrubs, vines, flowering plants, and even trees in containers placed on balconies, window ledges, and rooftops, as portrayed in their frescoes.
For 21st-century horticulturists, containers are truly integral to the art of gardening. Many devoted urbanites do not have access to a garden space at all, and rely solely on containers in a rooftop, terrace, or balcony setting. (Remember that fire escape gardening is illegal—I know from personal experience!) Suburban or rural dwellers, who may have some outdoor garden space, may enlarge their plant collection—and beautify their surroundings—with containers stationed on patios, decks, allées, or lawns. And as far as I'm concerned, every window should be fitted with a beautifully planted window box, and every eave should hold a hanging basket!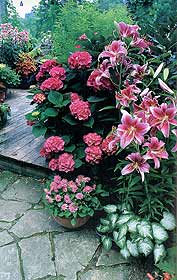 The potted plants above provide a profusion of blooms all summer long. Photo: David Cavagnaro
The choice of containers is as unlimited as the plant material cultivated inside them. The receptacle may be an aged, algae-covered terra-cotta favorite, an up-scale custom-built teak planter box, a rare antique delftware umbrella stand, a leaky half whiskey barrel, or a whimsical, white-washed ceramic wishing well, to name just a few possibilities. In addition, breakthroughs in design and manufacturing techniques of recycled plastic and fiberglass have given gardeners containers that are decorative and lightweight as well as winter-resistant, which makes them suitable for year-round use in colder climates—no more fine imported terra-cotta cracked through winter freezes. Improved styles of hanging baskets and window boxes promote better plant health, and cutting-edge soil mixes and timed watering devices save the busy container gardener precious time.
As far as plant material is concerned, gardeners can choose from a seemingly inexhaustible array of newly introduced varieties: drought-resistant and cold-hardy species, pollution- and disease-resistant strains, and miniature selections for limited spaces are merely a few examples.
So whether you cultivate a vast patio landscape, a small veranda planting, a miniature alpine garden, a luxurious water garden in a tub, a strawberry jar brimming with herbs, or simply a coveted, solitary pot of geraniums, rejoice in container gardening!