The Wildlife Gardener's Guide
If you can have only one book about attracting wildlife to your garden, this is it. This concise guide recommends ten specific wildlife-garden projects and provides countless tips that will make your garden a refuge for wild creatures. Inside you'll also find helpful information on the best bird foods and feeders, lists of plants that are attractive to the wildlife in your region, garden plans, and much more.
Ten Wildlife Garden Projects

Bird Gardens
Stopover Gardens for Migrating Songbirds
Evergreen Refuges
Flower Borders for Wildlife
Container Gardens for Wildlife
A Hummingbird Garden
A Butterfly Garden
Water for Wildlife
A Buffet for Beneficial Insects
Housing Projects

For More Information
Index
How to Welcome Wildlife to Your Yard
By Janet Marinelli
It isn't really spring in my yard until the Palm Warblers arrive. These pint-sized songbirds with streaked breasts and rufous caps are among the first migrants to arrive at my Shelter Island, New York garden. Come April, they feed on tiny emerging, insects they find in the thicket of shrubs and wild cherry and sassafras saplings behind my house. In a few days, they're gone, replaced by Yellow-rumped Warblers, Black-and-white Warblers, and various vireos, flycatchers, and thrushes. As the season progresses, a variety of butterflies, Ruby-throated Hummingbirds, and myriad other creatures are drawn to the flowers, fruits, and other goodies in my garden. Without them, my yard would seem lonely and incomplete.
North American coneflowers attract butterflies like this Painted Lady. Regionally native plants are best for wildlife because they have coevolved and formed close relationships over time.
I've read a lot of wildlife gardening books over the years, and they are all big on generalities—reduce the size of your lawn, plant native wildflowers, stop using pesticides, and so on—but distressingly short on useful specifics. That's why I wrote this book. It's divided into ten chapters, each one with step-by-step instructions for a garden project that will bring birds, butterflies, and other captivating creatures to your yard.
The ten projects described in these pages can be used to make an existing garden more attractive to wildlife or to create a new planting from scratch. They will transform your property into a refuge that provides wild creatures with all their daily needs: food, water, and safe places to hide, rest, and nest. You'll learn how to make your flower border a magnet for lovely swallowtails and hummingbirds. You'll discover how to create a "stopover garden" where weary warblers and other migrating songbirds can rest and refuel. Providing water for wildlife can be as simple as putting an old-fashioned birdbath in your garden—you'll find information on this and other water features that are easy to install and easy on your budget. You'll also find advice on the best feeders, birdseeds, and birdhouses, as well as garden plans to follow. Each gardening project includes lists of plants with proven wildlife appeal, organized by region for easy reference.
These and many other tips will enable you to create a garden that delights not only you but also beautiful and fascinating wildlife—no small accomplishment at a time when the plants and animals with which we share the land are facing increasing pressure from human activities. Today, quality wildlife habitat continues to dwindle at a rapid rate. Urban and suburban sprawl destroys natural areas; invasive plants from our gardens run rampant in the remaining natural habitats and replace the native plants upon which wildlife depend; and the overuse of chemical pesticides and fertilizers poisons food sources and can kill butterflies and other beneficial insects.
The most important thing we can do for wildlife is to make sure that natural habitats are protected and restored. But we can also ease the plight of beleaguered wildlife right in our own backyards. This guide shows how.
How to Make the Most of this Book
Two important concepts are the foundation for this book. The first is that plants and animals need each other to survive. Animals need the nectar, pollen, fruits, and other foods that plants provide. Most plants need animals for cross-pollination to reproduce successfully. The second major concept is that it is best to plant species native to your region in a wildlife garden. They have a proven track record, because they are the plants with which birds, butterflies, and other native animals have coevolved and survived over the millennia.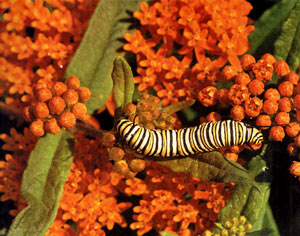 Monarch butterflies depend on native milkweeds like this butterfly weed for their survival because milkweeds are the exclusive food source for their caterpillars, shown here.
What Is a Native Plant?
A native plant is a species that occurs naturally in a region and/or habitat without direct or indirect human intervention. A plant endemic to Europe and introduced to North America is not native to this continent. Likewise, a plant native to one region of North America is not native to another region unless it originated there without our help.
Ecologically speaking, political boundaries such as national or state lines have no bearing on plant distribution. Plant ecologists have divided North America into a number of plant provinces. The species in these distinct vegetation regions are determined by such factors as high and low temperatures in summer and winter, or total annual precipitation.
What Is Cross-Pollination?
Cross-pollination is the transfer of pollen from the flower of one plant to the flower of another individual to fertilize it. Often this is accomplished by an insect or other animal pollinator. Many species require cross-pollination to set seed or for genetic health. This means you need to plant at least two and preferably more individuals of the same species. Some plants, called dioecious species, have separate male and female plants, which means you should plant at least one male and one female plant to promote cross-pollination and the resulting production of the fruits on which birds and other wildlife depend. Hollies (Ilex species), willows (Salix species), and eastern red cedar (Juniperus virginiana) are examples of dioecious plants.
Photos: David Cavagnaro
Janet Marinelli is the former director of publishing at Brooklyn Botanic Garden. She has written extensively about biological invasion and other conservation issues. She serves on the steering committee of the Center for Urban Restoration Ecology and the plant conservation committee of the American Public Garden Association. Her latest book, Plant (Dorling Kindersley, 2005), showcases 2,000 species worldwide that are threatened in the wild but alive and well in gardens and makes the case that gardens can play an important role in saving plants. Since its debut in the U.S., the book has been published in more than a dozen countries around the world. Marinelli has won numerous awards for her writing, including the American Horticultural Society's prestigious American Gardener Award for writing "that has made a significant contribution to horticulture."