School Group Procedures
Important Notice for All Teachers: BBG's Flatbush Avenue entrance is closed for a series of construction projects to better serve visitors and improve the Garden's sustainability. Please note the Garden's current drop-off location for buses at the Rose Arc entrance on Flatbush Avenue (see map below).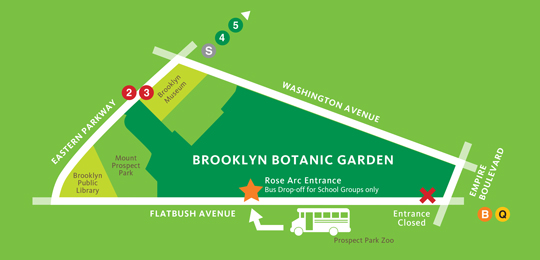 Groups Traveling by Bus:
Drop-Off Location on Flatbush Avenue
Children's groups coming by bus should be dropped off and picked up at the
Rose Arc entrance on Flatbush Avenue,
north of Prospect Park Zoo. This entrance is for school groups only.
Groups Arriving on Foot or by Subway
BBG is easily accessible via subway: 2/3 to Eastern Parkway, 4/5/S to Franklin Avenue, Q/B to Prospect Park (12-minute walk to entrance).
For directions to the Garden, visit Getting Here.
Garden Hours
March–October
Tuesday–Friday: 8 a.m. to 6 p.m.
Weekends and holidays: 10 a.m. to 6 p.m.
Closed Mondays
November–February
Tuesday–Friday: 8 a.m. to 4:30 p.m.
Weekends and holidays: 10 a.m. to 4:30 p.m.
Closed Mondays
Guidelines
To protect our collections and ensure that all visitors enjoy their experience, we ask that you share these rules with your group and follow them. A garden requires a great deal of care; we truly appreciate your help preserving this hundred-year-old living museum.
Every group must have a ratio of at least one adult per ten children. For grades pre-K to 1, a ratio of one adult per seven or eight children is recommended. Children must be accompanied by adult chaperones at all times.
Plants may not be touched except in the Fragrance Garden. Do not pick flowers, climb trees, or walk in planting beds.
Eating or drinking on Garden grounds or in the Steinhardt Conservatory is strictly prohibited.
Active sports, balls, Frisbees, and running are not permitted; audio devices may only be used with headphones.
Do not throw coins into fountains or pools or wade in water.
Sitting on lawns is permitted only on Cherry Esplanade; blankets may not be used.
Suggestions
Visiting with Large Groups
When more than one class or group is visiting from the same school or organization, the groups should split up to tour the Garden's collections separately. Smaller groups of children will see more of the Garden and have a better time. Please be aware that the Steinhardt Conservatory, school lunch area, and Garden Shop have capacity limits, and admittance may be temporarily restricted until space permits.
Restrooms
Restrooms are located in the Administration Building, Visitor Center, and Steinhardt Conservatory. Please allow time before and after your visit for restroom use.
Clothing
Children and adult leaders should wear clothing and footwear appropriate for an active, outdoor walk and shifts in weather.
Traveling with Lunches
We encourage children's groups to have lunch before entering or after leaving the Garden. Picnic areas located near the Garden include Dr. Ronald McNair Park (near the Visitor Center), Mount Prospect Park (at Eastern Parkway), and Prospect Park (across Flatbush Avenue).
The Garden has limited seating for registered school groups in an uncovered outdoor lunch area located near Oak Circle. This area is open seasonally in the spring and fall, Tuesday through Friday from 10:30 a.m. to 1 p.m. School groups must be accompanied by the appropriate ratio of adult chaperones. This area requires assistance for wheelchair accessibility.
Garden Shop
BBG's Garden Shop is open year-round and offers a selection of books, plants, and gifts for purchase, including a special children's section. Children's groups are welcome to shop in groups of ten or fewer, with adult supervision.
Accessibility
Most facilities at the Garden are wheelchair accessible, including the main entrance, Visitor Center, education greenhouse, Steinhardt Conservatory, and several restrooms. Please let us know if individuals will be arriving by wheelchair or if they are physically challenged so that we can help you plan your route accordingly. Learn more about accessibility at the Garden.
Self-Guided Visits
Registration is required and must be requested at least two weeks before the date of your visit. Register early to get your first choice of dates during the most popular seasons. Choose your trip date and print your free admission pass. Make sure to bring your admission pass with you to the Garden.
Register for a School Group Visit
| | | |
| --- | --- | --- |
| For self-guided visits between: | | Online registration begins: |
| September and February | | August 1 |
| March and August | | January 2 |
Exploration Workshops
Prescheduled structured programs are offered Tuesdays through Fridays with advance registration and payment required. The following registration procedure applies for School Workshops and Exploration Tours:
All registrations for structured programs are handled by telephone. To register, please call the Registration Office at 718-623-7220 between 9 a.m. and 4 p.m., Monday through Friday. We will need the teacher's name and phone number for each class attending. Registrations will be taken only during those times. Call early and have several alternate dates in mind.
To register for:
Calls will be accepted beginning:
Fall and winter guided programs offered between October and February
September 3, 2014
Spring guided programs offered between
March and June
January 5, 2015
A separate appointment is required for each school class, which can have a maximum of 35 students (25 for pre-K through grade 2). Special education classes are limited to 15 students. We cannot accommodate groups of students combined from different classes.
Payment procedure: Advance payment is required for all structured programs. Fees must be received within three weeks after the reservation has been made, or the appointment will be canceled.
Cancellation policy: If you need to cancel a program, your fee will be refunded, minus a $10 processing charge, provided you notify us at least three weeks before the date of your visit. Reimbursement will not be issued for "no-shows" or last-minute cancellations.
All programs are held rain or shine. In the event of inclement weather, tours may be conducted in the Steinhardt Conservatory. There will be no refund, credit, or rescheduling due to inclement weather.