Ghouls & Gourds, New York's Hallowed Halloween Rumpus Returns October 29
GHOULS & GOURDS
Saturday, October 29, 2011 | Noon–6 p.m.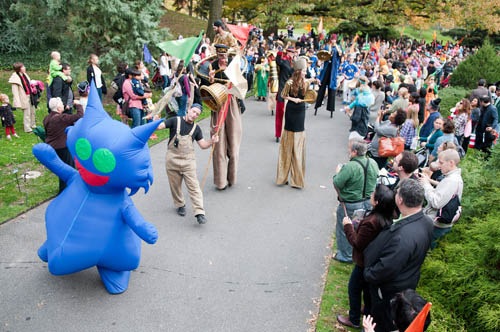 Release Date: 10/11/11
Brooklyn, NY—On Saturday, October 29, costume-clad families from across the tri-state area will descend on Brooklyn Botanic Garden (BBG) for Ghouls & Gourds: New York's wackiest Halloween celebration! Against the backdrop of the Garden's gorgeous fall flora, visitors of all ages can enjoy boisterous music, hands-on workshops, larger-than-life puppets, a pretend petting zoo, and a children's-book barn full of authors.
This year the Garden will be transformed into a Victorian wonderland featuring flamingo croquet, a flying flea circus, a Victorian toy parlor, and a monocle, mustache, and beard booth. The renowned Mettawee River Theatre Company will also take stage at the Throwback Theatre to lead an old-time waltz with woodland creatures.
Ghouls of all ages can make their own egg-shaker maracas to play in the parade, learn about lace, meet carnivorous plants, and visit the pretend petting zoo (back by popular demand!)—or just flaunt their costumes for all to see! The Children's Book Barn will feature 14 renowned authors and illustrators—many based in Brooklyn—who will charm families with readings and book signings.
Visitors will enjoy musical performances by the Richmond Indigenous Gourd Orchestra, the Xylopholks, the Itinerants, One World, and other bands. The day will go out with a bang as Brazilian percussion group Maracatu NY and giant stilt dancers from Mortal Beasts & Deities lead the celebrated costume parade and drum circle.
Ghouls & Gourds activities will take place rain or shine on Cherry Esplanade. Admission is $15 for adults and $10 for students and seniors over 65. Admission for children under 12 and members is always free.
The day's schedule includes the following:
MUSICAL MAYHEM
• The Itinerants: Shake your caboose to this Cajun and Celtic clamor.
• One World: Join the joyous jamboree of giant Tibetan trumpets and percussion from around the planet.
• The Richmond Indigenous Gourd Orchestra: Paleolithic lounge music that's off its gourd.
• Xylopholks: Brooklyn's own furry ragtime band.
• Mettawee River Theatre Company: Enjoy an old-time waltz with a woodland creature of your choice.
WEIRD WORKSHOPS AND OTHER ODDITIES
• Monocle, Mustache, and Beard Booth: Get a turn-of-the-century makeover with friends from Curious Jane.
• The Egg Shaker Shack: Make your own maraca to play in the parade.
• Old-Spool Lace Making: The Textile Arts Center teaches you this olden-day way.
• Spooky Plants: Pot up a creepy coleus to take home.
• Pretend Petting Zoo: Come meet our imaginary menagerie.
• Carouse with a Pack of Giant Puppets: Strut your stuff with our giant puppet posse.
• Phydeaux's Flying Flea Circus of Fate: Tiny acrobats hit the big top.
• Victorian Toy Parlor: Quirky and quaint diversions and what-nots from the Museum of Early Trades and Craft.
• Larger-than-Life Stilt Dancers and Magical Creatures: Enjoy the stilt dancers of Mortal Beasts & Deities as they prance around Cherry Esplanade.
CHILDREN'S BOOK BARN
Meet today's most exciting children's-book authors and illustrators as they share their work with fans! The lineup features new additions and returning favorites:
• Selina Alko Illustrator of I'm Your Peanut Butter Big Brother, Greetings from the 50 States, and My Taxi Ride
• Bryan Collier Author and illustrator of Martin's Big Words, Dave the Potter, and Rosa
• Melanie Hope Greenberg Author and illustrator of Supermarket, Down in the Subway, and Mermaid on Parade
• Deborah Gregory Author of Catwalk Trilogy and The Cheetah Girls series
• Huy Voun Lee Author and illustrator of In the Leaves, Honk, Honk Goose!, and The Magic Brush
• Misako Rocks! Author and illustrator of Detective Jermain Vol. 1
• Diane Muldrow Author of We Planted a Tree, Where Do Giggles Come From?, and Somewhere So Sleepy
• Charlotte Noruzi Author and illustrator of Grow, Watermelon, Grow
• Robert Kimmel Smith Author of Chocolate Fever, The War with Grandpa, and The Squeaky Wheel
• David Ezra Stein Author and illustrator of Love, Mouserella, Interrupting Chicken, and Leaves
• Javaka Steptoe Author and illustrator of Jimi: A Story of the Young Jimi Hendrix, A Pocketful of Poems, and In Daddy's Arms I Am Tall
• Lauren Thompson Author of Mouse Love School, Leap Back Home to Me, and One Starry Night
• Dimitrea Tokunbo Author and illustrator of Sidewalk Chalk: Poems of the City, Together, and The Sound of Kwanzaa
• Nikki Williams Author and illustrator of Jungle Boogie: An Urban Tail
For more information, visit bbg.org/visit/event/ghouls_and_gourds_2011.
Major sponsorship for Ghouls & Gourds 2011 is provided by Con Edison.