Centennial Bee-Day Party
Saturday, June 12, 2010 | 11 a.m.–6 p.m. | Free!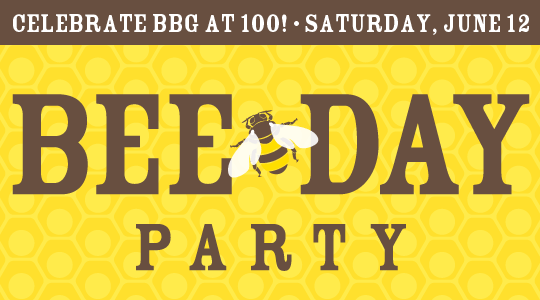 Celebrate BBG's centennial with a bee-filled birthday party for all ages. Enjoy a day of musical performances by Stephane Wrembel, the Django Experiment; Mecca Bodega; the Persuasions; the Sweet Divines; and other artists. Themed walking tours with BBG's gardeners and scientists highlight plants' special relationships with bees. Sample "New York City rooftop honey" and other delights by local beekeepers and artisans. Hear renowned apiarist Dennis vanEngelsdorp and nature writer Verlyn Klinkenborg talk about the importance of bees in our environment. Kids can buzz around the grounds in fanciful bee costumes, make bee puppets, explore hands-on science workshops, and enjoy bee-inspired readings by Children's Poet Laureate Mary Ann Hoberman.
Performers, Activities, Exhibits and Workshops
Printable Centennial Bee-day Party Schedule of Events (pdf)
Schedule of Events
{tab_content}
{tab_content}
{tab_content}
{tab_content}