Let's Grow
In 2014, Brooklyn Botanic Garden marks the centennial of its pioneering Children's Garden. BBG was the first botanic garden to create a program exclusively for children—where toddlers to teens are participants, not just spectators, in community horticulture, plant science, and healthy eating. Here children sow, tend, and harvest their own crops and flowers and learn valuable lessons about responsibility, cooperation, and the importance of plants in our lives. This experience has sparked a lifetime of curiosity about nature and devotion to the environment for generations of local families.
Learn more in this short video, and join us in celebrating this remarkable place.
A History of the Children's Garden
Award Winning Programs
Growing Up in the Garden
Behind the Scenes
Spring & Summer Programs
BBG's Book for Kids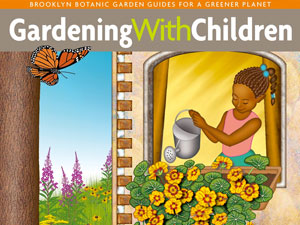 Supporters of the Children's Garden Centennial Program
Lead Sponsor

Major Sponsor
Sponsor
With Additional Support from
Major Sponsor of "100 Years and Growing"
Make a Charitable Gift
Become a Member
Follow Us
Image, top of page: