Young visitors investigate worms and learn about compost. Photo by Jean-Marc Grambert.
Children's Garden from Home
Compost
Hello Children's Garden Families and  Friends, 





Today we are digging into one of our favorite topics: compost! With citywide programs like the NYC Compost Project on hiatus, many families have been asking about starting or maintaining their own compost piles at home. Other families are overwhelmed at the thought of taking on another ambitious project right now, so we've got lots of ways of exploring compost at home, even if you don't have your own compost bin.

Composting is the process of  decomposition  of natural materials like veggie scraps, fruit peels and leaves. Gardeners create compost to add to their soil for a healthy burst of nutrients, bacteria,  and critters that help plants grow. Think of compost like the vitamins you might take to make your body strong and healthy. Compost is an amendment that makes our soil rich and fertile to support plant life.  Every spring we add a generous amount of compost to each of our Children's Garden beds.   

If you are interested in advocating for funding towards community composting efforts, visit the Lower Eastside Ecology Center's site.





Now read on for fun projects, games, a recipe, and a free virtual event coming up on Tuesday, June 2!
Video Lesson: Compost
(Ages 2–6, 28 minutes)
Compost video lesson by Emily Carter and Ashley Gagñay.
In this week's video lesson, join Emily and Ashley to learn about compost, play a compost guessing game, and make an easy recipe for black bean dip. We'll also visit the compost bin  at the Children's Garden. Emily and Ashley also answer the gardening and nature  questions you sent in. Keep the questions coming! 
Let's Play: Leaf Litter Bingo
(Ages 5–10, 30 minutes with nature walk)
Leaf Litter Bingo game by Ellen McCarthy.
Even if you don't have a compost bin, you can explore decomposer critters in your local park or tree pit. If you look under rocks, logs, or in a pile of leaf litter, you will discover an active ecosystem of insects, bacteria, and microorganisms. 
Print out this leaf litter bingo sheet and go on a nature walk. Look for a pile of leaves, or look under large rocks or logs. See how many critters you can find!
Let's Make: Compost Creatures
(Ages 4–10, 30 minutes)
Photos by Ellen McCarthy.
There's a whole world of organisms living in compost and soil. Have you heard of nematode worms and springtails?  Watch this amazing claymation video about the soil food web. Use the creatures in the video as your inspiration to make critters that we find in soil and compost!

Materials: 
Clay, playdough, or air-dry clay
Markers
Natural materials (pinecones, dried pine needles, acorns, leaves, etc.)
Scissors

Directions:
After you watch the video, make some insects and worms and other creatures found in soil. If you tried to make the air-dry clay for last week's lesson, we'll take it up a notch by showing you how to make colored clay with markers. Use this instruction sheet. Then, add natural materials like twigs, leaves, and pine needles to create creatures like spiders, worms, and mites.
Let's Play: Compost Shuffle
(Ages 5–13, as long as you wish to play)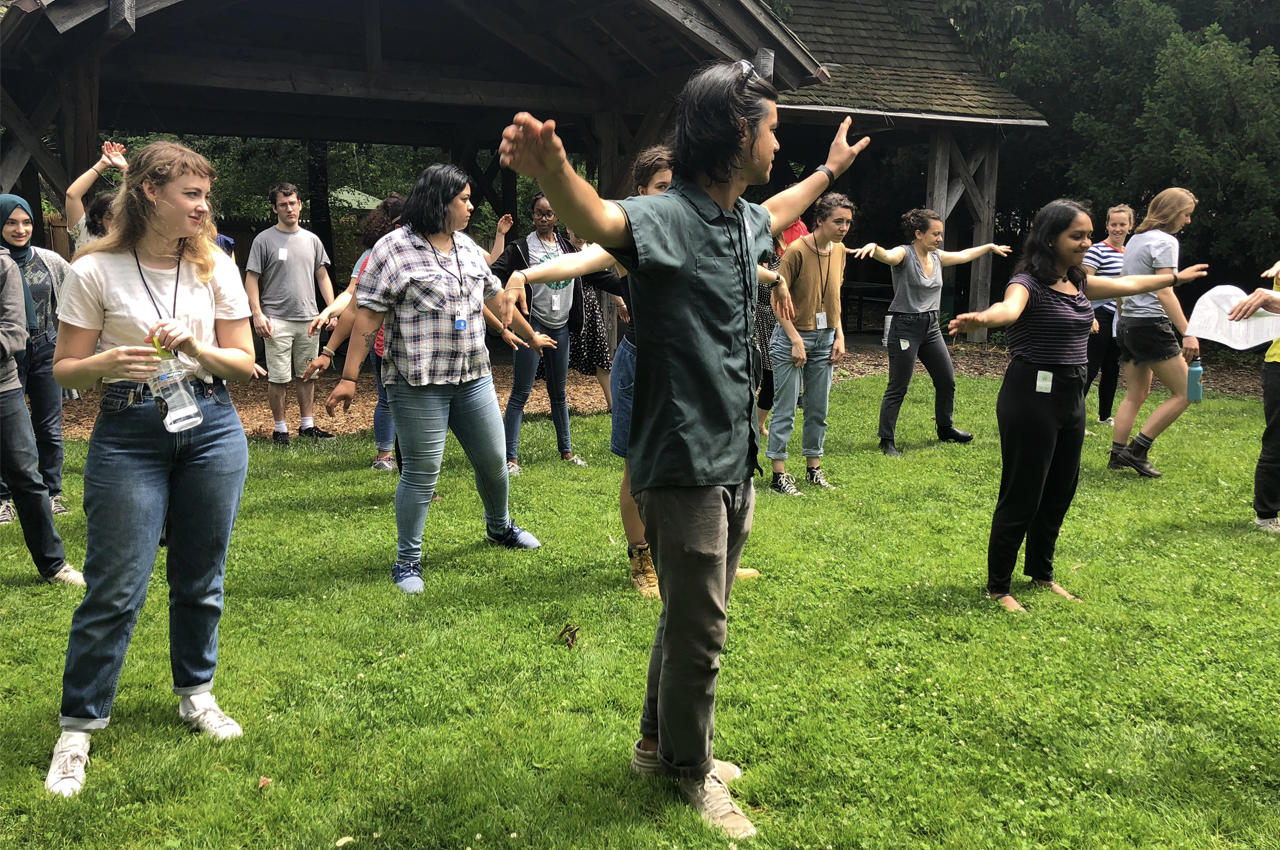 Children's Garden instructors playing Compost Shuffle. Photo by Emily Carter.
The Compost Shuffle  is a very popular game in the Children's Garden and can be easily played at home! The game is best played with a group of people, so get the whole family involved. It can also be adapted for smaller groups, just come up with your own calls.  No materials needed!

Directions: 
To play, one person is the leader who will lead the game by giving compost calls. The calls that we use in the Children's Garden are: 
"Greens!"- Walk to the left 
"Browns!"- Walk to the right 
"Food  Scraps"- Crabwalk 
"Wheelbarrow"- Two people team up (one  holds the legs of the other to form a human wheelbarrow)
"Wiggly Worm"- Three people team up (everyone holds hands and wiggles their arms like a long worm moving through the compost)
"Compost  Turn"- Four people team up (two hold arms together to make a rectangle shape like a compost bin, one person acts like a pitchfork turning the compost inside the bin, and one person spins around like compost being turned)
*Feel free to create different calls and movements based on the number of people you have playing the game!  

Everyone stands out in front of the leader and walks around, mingling. The leader randomly calls out one of the calls above. Everyone must listen to the call and react with the appropriate movement. For example: If the leader calls "Greens!" everyone must move their bodies to the left. If the leader calls out "Wiggly  Worm" everyone must find two other players to team up with to make a long worm with their arms. 

If someone does the wrong move or cannot form a full group with the right number, they are out! A player who is out then becomes a Fruit  Fly  and must stand next to the leader at the front of the group. If the leader calls "Fruit  Flies Attack!" all the fruit flies standing beside the leader must run out and try to tag a player who is still in the game, while the leader counts to 15. If you are playing in a small area, the fruit flies can attack  through crab walking to reduce the amount of running.  The game continues until everyone becomes a fruit fly and then you can restart with a new leader.  Have fun! 
Let's Cook: "Compost" Black Bean Dip
(All ages with adult supervision, 15 minutes)
Photos by Ellen McCarthy.
This is an easy, protein-rich dip that you can make spicy or mild depending on your family's tastes. Kids can help by measuring and mixing, chopping the cilantro and scallions with scissors, using the mortar and pestle, or pressing the button on the food processor or blender!  

Ingredients: 
1 (15 ounce) can black beans, rinsed 
2 teaspoons lime juice (from 1 lime) 
½ teaspoon ground cumin or chili powder 
½ teaspoon dried oregano 
½ teaspoon garlic powder 
¼ teaspoon paprika 
¼ teaspoon salt 
¼ teaspoon ground pepper 
¼ teaspoon cayenne pepper or ground chipotle chile (optional)
2 teaspoons olive oil  
¼ cup chopped fresh cilantro or scallions 
Optional: 2 tablespoons  sour cream  or Greek yogurt 
 
*Don't worry if you don't have all the spices. You can use the spices you have on hand and be creative! Don't have yogurt or sour cream? Skip  this part! It will still  be  delicious! 

Directions: 
Place beans, lime juice, spices, sour cream (if using), salt and pepper in a food processor,  blender, or use a mortar and pestle. Process until well combined, about 20 seconds. For a spicier dip, add cayenne (or ground chipotle) to taste, up to  ¼  teaspoon. Add oil, cilantro (or scallions) and onion. Pulse until well mixed, about 20 seconds. Transfer to a bowl to serve and garnish with chopped scallions or cilantro. Serve this dip with sliced veggies, toasted pita bread or whole-grain tortilla chips. You can also use this dip as a topping for tacos or burritos. 
Don't Miss: BBG at Home Spring Fling!
Tuesday, June 2, 9 a.m.–4 p.m. and 7:30–10 p.m.
Join us online to green your mind, body, and spirit with free BBG workshops, classes, and performances during the day. At night, wear your festive florals and enjoy BBG's virtual Garden Soiree and Dance with Your Plants After Party.

The entire day is free and open to the public as a gift to our community. Join for some or join for all! Activities for children, adults, and families, including yoga, eco-crafts, kitchen gardening, and performances.

RSVP now to receive additional details and a reminder on the day of the event!
Composting is a critical way to limit the amount of waste that goes to landfills. If you have any questions about composting and how to successfully compost at home, please feel free to reach out. As always, send along any photos or stories
from your adventures in  at-home gardening! We're looking forward to being outside again  soon and  getting nice and messy in the compost bin with all of you.  Stay safe and happy composting!
All the best,
Emily, Ellen, Ashley, and Greta
Not on our list? Sign up here to receive these Children's Garden at Home emails.
Copyright © 2020
Privacy Policy | Contact Us

BROOKLYN BOTANIC GARDEN
1000 Washington Avenue
Brooklyn, NY 11225
718-623-7200
bbg.org