A Citrus Container Garden
This leafy low-maintenance container garden will keep citrus lovers happy all summer. An interesting and attractive mix of annuals and tender and hardy perennials, the edible aromatic herbs that fill this large, low pot are united by their redolence of lemon, orange, lime, and grapefruit. Harvest the leaves for salads, teas, and cooking throughout the summer (they're most aromatic just before the plants bloom), or dry them for later use.
A modern-looking bowl-shaped planter works well for this informal design. Terra-cotta adds a Mediterranean feel, but concrete is more weather resistant. Spiky lemongrass and grapefruit mint fill the center of the planter where it is deepest; surrounding them are lemon basil and several members of the mint family—lime and lemon balm and lemon catnip. Lemon savory, lemon verbena, orange balsam thyme, and lime creeping thyme grow along the shallow outer edge of the pot.
All the plants in this design prefer full sun, but they have differing water and drainage requirements. Use a bagged potting soil to fill the planter (these contain more organic material than the indoor and soilless mixes). Apply a slow-release fertilizer (NPK 20-20-20) when planting and then again in early spring. To keep all the plants happy in this compact space, you can put the thymes and savory in their own pots with small-gauge gravel or grit around their roots to promote fast drainage; nestle the pots a little higher than the container's soil to facilitate drainage. It's also a good idea to keep the grapefruit mint in its own pot too, to keep it from taking over the entire container. Let the lemon verbena go totally dry, and then water it well. It can also go in a pot, which can be brought indoors over winter.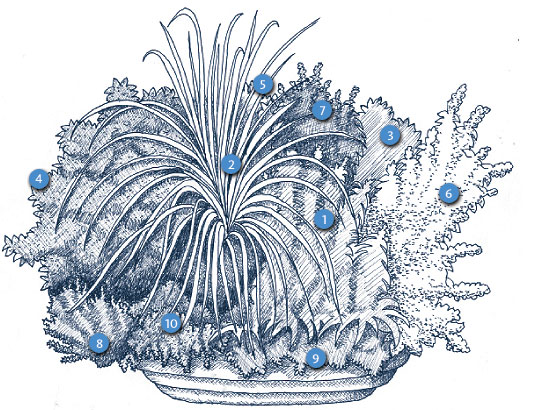 Aloysia citrodora (lemon verbena)

Widely used in fragrances, teas, poultry dishes, and salad dressings, this woody perennial shrub also has a lovely structure, with long medium-green leaves and pinkish-white late-summer flowers. USDA Zones 8 to 10.

Cymbopogon citrates (lemongrass)

Grow this clumping tropical grass as an annual in average, well-drained soil. In the fall, harvest the lower six inches of the stalks, including the bulbous shoot base, and freeze for flavoring Southeast Asian dishes. Zones 10 to 11.

Melissa officinalis 'Aurea' (golden lemon balm)

Keep this perennial herb bushy by pruning it back frequently and deadheading the spikes of cream flowers. It prefers evenly moist, well-drained soil. Add the pretty gold-edged lemon-scented leaves to teas, salads, sauces, and vegetable dishes. Zones 3 to 7.

Melissa officinalis 'Lime' (lime balm)

fragrance and bright green leaves, prefers the same conditions as lemon balm. Like other members of the mint family, balms can become invasive, so consider growing them in their own pots within the main container. Zones 3 to 7.

Mentha x piperita forma citrata 'Grapefruit' (grapefruit mint)

This citrus-toned mint makes a great container plant as long as it has full to partial sun and consistent moisture. To keep it leafy, deadhead the spikes of pale mauve, bee-attracting flowers. Use it in tea, fruit salads, Southeast Asian dishes, and in potpourri. Zones 5 to 9.

Nepeta cataria 'Citriodora' (lemon catnip)

This bushy perennial with beautiful gray-blue leaves and white flowers reaches close to 30 inches when flowering. The plant's floppy tendency nicely contrasts with its more compact-growing neighbors. This citrusy cultivar is usually used in tea. Zones 4 to 9.

Ocimum basilicum 'Mrs. Burns Lemon' (lemon basil)

This robust heirloom cultivar basil has a tangy lemon flavor prized by chefs for chicken and fish dishes, salads, and vinegars. Kept pinched back (including the flower spikes), it will produce bushy growth with large bright green leaves until the first frost knocks it out.

Satureja biflora (lemon savory)

This delicate plant with small white or lavender flowers and tiny medium-green leaves can be grown as an annual or potted up and kept in a sunny windowsill over winter to be harvested as needed for use in stews and roasted vegetables. Zones 9 to 10.

Thymus x citriodorus 'Lime' (lime creeping thyme)

This low, matting thyme with citrus-scented leaves will softly drape over the edges of the pot as it grows. Best used fresh, the bright green leaves impart a lime-thyme flavor to salads, soups, and fish dishes. Zones 5 to 8.

Thymus vulgaris 'Orange Balsam' (orange balsam thyme)

The aromatic small gray-green leaves on this mound-forming herb have a bitter-orange tone that goes great, fresh or dried, with fish dishes and vinaigrettes. Avoid overwatering and make sure it has excellent drainage; trim it back periodically to keep it leafy. Zones 5 to 9.