An Autumn Pathway—Designing for Fabulous Fall Color
To some degree, our gardens are representations of the dearest times and places in our memories. My childhood memory of fall is of hayfields ablaze in gold and hedgerows bursting with native beauties: blueberries, goldenrods, asters, grasses, Virginia creeper, and poison ivy, all against a backdrop of red cedar (Juniper virginiana) and sumac.
Autumn has always been my favorite season in the garden. With the oppressive heat of late summer gone, I find it exhilarating to be outside once again, enjoying breathable air and savoring the flush of new color. The knowledge that winter is looming in the distance serves to heighten my awareness of the late-season splendor.
Flowers are secondary to foliage now. Plant leaves, stripped of their veil of green chlorophyll, reveal other striking pigmentation underneath—yellows, reds, browns, and purples. In the design below, I've chosen plants that exemplify the season and speak to me of autumn. Besides focusing on fall foliage, I've also included plants with strong architectural features or persistent seed heads that will carry a garden through to winter and beyond.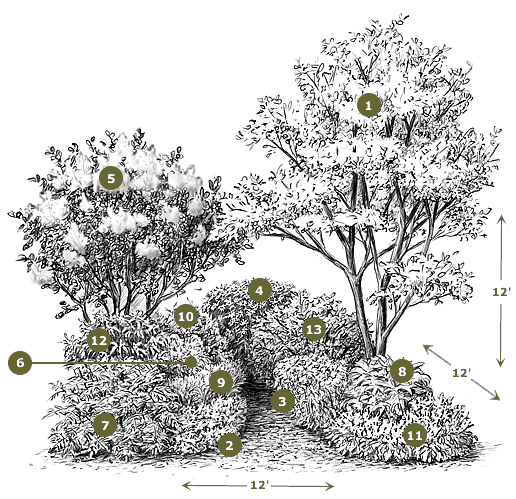 Amelanchier canadensis (Serviceberry)
Amsonia hubrichtii
Aster x frikartii (Aster)
Boltonia asteroides
Cotinus obovatus (Smoke tree)
Helenium autumnale (Sneezeweed)
Nandina domestica* (Heavenly bamboo)
Paeonia lactiflora (Common garden peony)
Panicum virgatum 'Heavy Metal' (Switch grass)
Rosa carolina (Pasture rose)
Salvia 'Maraschino' (Autumn sage)
Solidago species (Goldenrod)
Vaccinium corymbosum (Blueberry)
*Note: Nandina domestica is listed as an invasive plant by the Florida Exotic Plant Pest Council. For more information, visit www.fleppc.org.