The Best Books About Growing Vegetables in Containers
You don't need a yard to indulge your dreams of growing fresh food. If there is an available roof, balcony, porch, front or back stoop, or even a windowsill, growing produce in containers is possible. Use the fall and winter months to study up and create a plan—not only will it help you get through those cold-weather doldrums, but come spring you'll be ready to create a lush oasis full of food. There are many, many books about container gardening but far fewer dedicated to edibles. I've found the following references useful during my years of rooftop gardening—some more so than others but all worthy of a read.
The Comprehensive Tome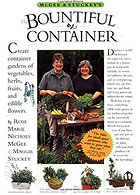 If I were to recommend one book above all others, it would be The Bountiful Container, by Rose Marie Nichols McGee and Maggie Stuckey. This all-encompassing guide answers just about any question you could have on growing edibles in containers in all seasons, including choosing varieties that thrive in small spaces, planting, watering, fertilizing, dealing with potential pests and diseases, and harvesting.
Divided into three sections, the book begins with the basics of site assessment, succession planting plans, and ideas for making your edible garden the most beautiful it can be. Part two focuses on hardware (containers and trellises), software (soil and plants), and maintenance for the health of your garden. Part three is the section you'll return to again and again—the incredibly diverse profiles of plants for containers. McGee and Stuckey's detailed lists of the varieties of veggies, herbs, and edible flowers that will grow, look, and taste best when grown in pots have taken the guesswork out of container gardening.
The Bountiful Container, by Rose Marie Nichols McGee and Maggie Stuckey. Workman Publishing Company. 2002. Available at BBG Garden Gift Shop (shop.bbg.org)
The Manifesto
Full of personal anecdotes of the author's successes and failures in the garden, Fresh Food from Small Places, by R.J. Ruppenthal, is an engaging read for people interested in making their urban lives more sustainable and locally oriented. The author presents his book as "a mini-course in urban food production," focusing on the space, equipment, and encouragement a city dweller needs to grow food. The book postulates that urbanites can grow 10 to 20 percent of their own food if they're willing to turn over every spare inch to containers, sprouting stations, fermentation jars, mushroom-growing boxes, and even housing for small livestock like chickens or bees.
Though this may be more of a commitment than most container gardeners are looking for, the book makes some excellent points about our need to become invested in more sustainable methods of food production. Regardless of how far you want to take this, the book offers excellent advice on such practical matters as building self-watering containers and growing food in low-light places.
Fresh Food from Small Spaces, by R.J. Ruppenthal. Chelsea Green Publishing. 2008.
The Visual Sourcebook
If you're looking for inspiration over advice, Kitchen Harvest, by Susan Berry, is an excellent book to turn to. Full of gorgeous color photography by Steven Wooster, there isn't much by way of practical edible gardening information, but it's a pleasure to thumb through shot after shot of lush plants thriving in containers. The book offers some recipes and very basic container gardening tips, but the real draw here is the images.
Despite its sparsity of practical information, I think the book is worth perusing to see just how beautiful an edible container garden can be. This visual feast of luxuriously photographed container gardens will whet your appetite for new plant choices and combinations. Once you see how rich and abundant an edible container garden can be, you may find yourself inspired to grow things you never thought possible.
Kitchen Harvest, by Susan Berry. Frances Lincoln Publishers. 2007.