Stilt Dancing Insanity! Caterpillar Feedings!
Rutabaga Skee-ball! Brooklyn's Wackiest Costume Parade!
#ghoulsgourds #brooklynbotanic
Performances
Planet Pumpkin

Noon–12:45 p.m.
Shinbone Alley Stilt Band
High-stepping Dixieland jazz and shamelessly silly shenanigans
1:00–1:45 p.m.
Pam Fleming's Dead Zombie Band
A raucous resurrection of frenzied brass
2:00–3:15 p.m.
New Kingston
Brooklyn's young lions of roots reggae
3:30–4:30 p.m.
Billy Jonas & the Band
North Carolina's award-winning kids' troubadour returns to BBG.
Hayloft Stage

Noon–12:30 p.m.
Phydeaux's Flying Flea Circus of Fate
Tiny acrobats hit the big top.
12:30–1:15 p.m.
Mettawee River Theatre Company
Victorian creatures invite you to their woodland waltz.
1:30–1:45 p.m.
Phydeaux's Flying Flea Circus of Fate
Tiny acrobats hit the big top.
1:45–3:00 p.m.
Eddie Barbash
American roots music from NYC's late-night sax king
3:00–3:15 p.m.
Phydeaux's Flying Flea Circus of Fate
Tiny acrobats hit the big top.
3:15–4:00 p.m.
Metropolitan Klezmer
Gotham's greatest players of Yiddish party music
---
Activities
Noon–4:00 p.m.
Club Bug

Dr. Rutledge's Insectorium and Petting Zoo
Pet a hissing cockroach, feed a hornworm, and meet an entomologist!

Build a Gigantic Spider Web
Use recycled ribbon and fabric scraps to create a home for the world's largest arachnid.

Arthropod Antennae
Craft your very own freaky feelers and become an insect for the day.

Squirmy Wormies
Enjoy these wiggly worms and behold their composting skills!

Bad Bug Tats
Get inked with an Asian long-horned beetle tattoo from the USDA's beetle busters.

Mind Your Own Beeswax
Craft a candle with natural wax from real honey bees!
This activity takes place in the Discovery Garden Pavilion.

Vegetable Midway

Rutabaga Skee-Ball
Step right up and play this classic arcade game—with a veggie twist.

Brussels Sprout Bowling
Try your hand at this crazy cruciferous game of skill.

Lenape Indian Corn Darts
This Native American tossing game is harder than it looks.

You Look Radishing!
Veg out at one of our selfie photo stations.

Creature Features

Mortal Beasts & Deities
Magnificent stilt dancers and magical puppets stroll the Esplanade.
Official Webpage ›

Pretend Petting Zoo for Toddlers
Come play in our imaginary menagerie.

Point and Cluck
Snap a photo of your chickeny self.
Children's Book Barn
Noon–4:30 p.m.
With the Community Bookstore Pop-up Shop
Get an autograph and enjoy readings by local authors and illustrators.
Costume Parade & Drum Circle
4:30–5:30 p.m.
Parade kickoff at the Planet Pumpkin Stage at 4:30!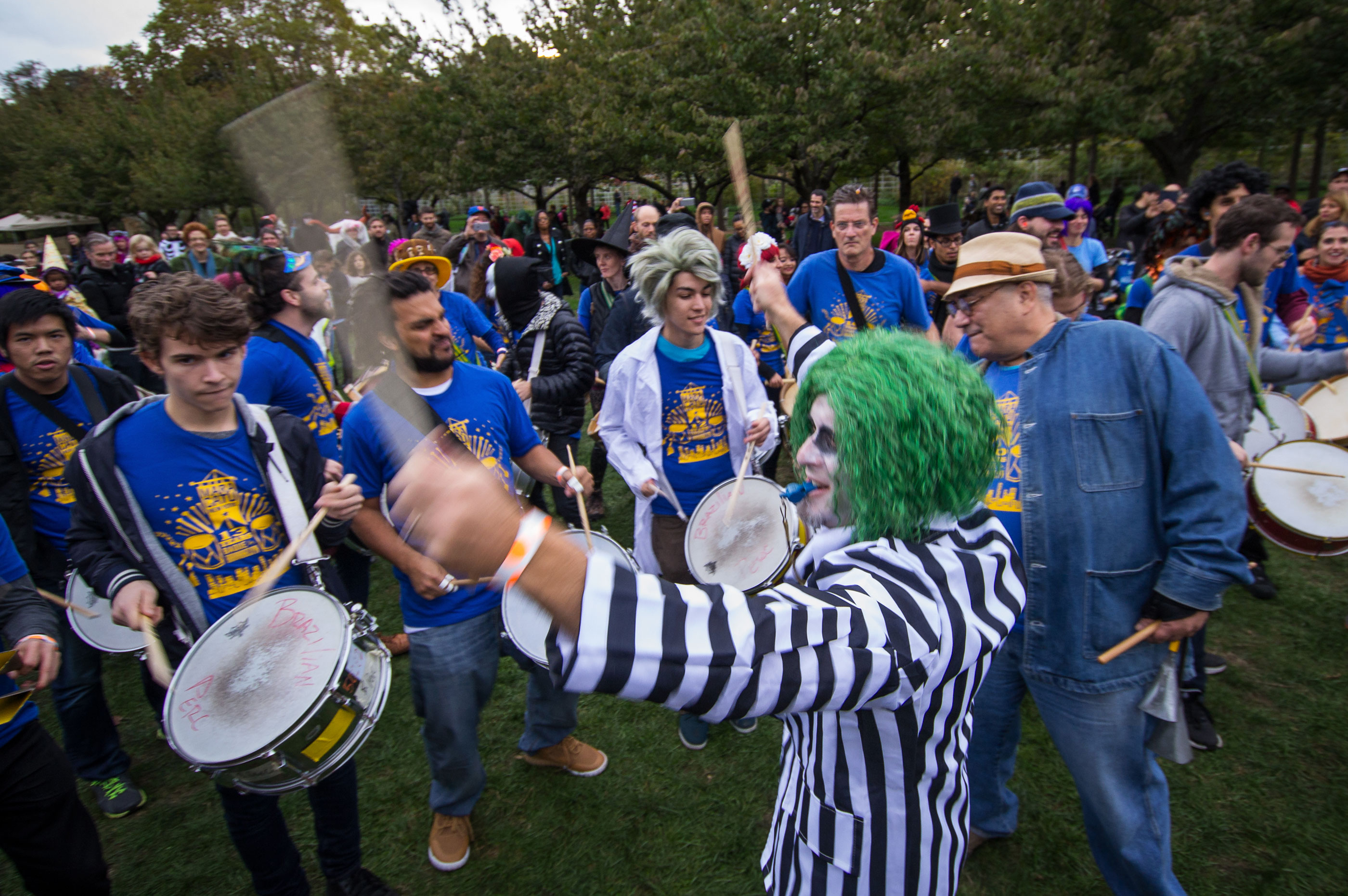 Brazilian percussion corps Maracatu NY leads our celebrated costume parade and dynamite drum circle! March to the beat of bodacious bands, strut your stuff with silly stilt dancers, shake your bag of bones, or just show off your costume for all to see!
Admission
Adults

$15

Seniors (65 and over)

$10

Students 12+ with valid ID

$10

Children under 12; BBG Members

Free
Members and ticket holders skip the lines. All events are held rain or shine. There are no free hours, reciprocal admissions, or IDNYC processing during Ghouls & Gourd.
---
Upcoming Dates
| | |
| --- | --- |
| Saturday, October 29, 2016 | |