Visit
Advance tickets are required to enter.
Face coverings are required.
Maintain social distance.
Most indoor spaces and all interactive exhibits are closed.
Hours
Tuesday–Sunday: 10 a.m.–4:30 p.m.
Closed Mondays (but open Martin Luther King Jr. Day and Presidents' Day)
Specialty gardens begin to close 30 minutes before closing time.
Note: Conservatories, interactive exhibits, and some outdoor areas are closed for your safety.
KNOW BEFORE YOU GO
Safety is our priority. Please review these new visiting guidelines to help keep the Garden open for all as a place of delight and inspiration.
Tickets
All visitors including children and members must have an advance ticket to enter. Members must also present valid ID with their free ticket.
Ticket quantities are limited in order to preserve social distancing. The Garden will release new blocks of tickets two weeks in advance of visit dates.
Group size is limited to 10. At this time, we cannot accommodate tourism passes. General admission tickets are not intended for school groups; to make free reservations a school group, visit bbg.org/teachers.
Please return tickets if you cannot use them.
Additional Information for Members ›
Entry
On the Grounds
Face coverings are required for all guests over age 2.
Stay 6 feet from others not in your group.
Some areas of the Garden may be closed or restricted. Please follow signs and stay on designated paths. Some paths are one-way.
Indoor spaces such as the Conservatory, Administration Building, café, Library, and Visitor Center lobby are closed until further notice.
Interactive exhibits in the Discovery Garden are closed or covered.
Water fountains are covered. Please bring your own water.
Sandwiches, soup, snacks, and drinks are available for purchase at the Visitor Center kiosk, 10 a.m.–3 p.m., Sunday and Tuesday through Thursday; 10 a.m.–4 p.m., Friday and Saturday. Yellow Magnolia Café is temporarily closed. Pocket snacks are permitted for individuals with dietary needs.
Restrooms are available only at the Flatbush Avenue entrance and at the Visitor Center.
Paper maps are not available. See map consoles on-site.
Help keep our staff safe. Please don't engage staff members caring for our living collections and facilities. If you need on-site assistance, seek out Visitor Services or Security.
For everyone's safety, the Garden reserves the right to deny or revoke the admission of any visitor who refuses to comply with these guidelines. Thank you for being considerate of others.
For Your Safety
Staff members have been trained in New York State COVID-19 hygiene and social distancing protocols and wear face coverings while in public areas.
High-touch surfaces are frequently cleaned. However, it is not possible to ensure that benches and other surface areas are sanitized; please act accordingly.
All on-site classes and guided tours are suspended until further notice.
Our enhanced safety protocols are based on current City and State mandates and recommended guidelines. As in any public outdoor setting, we cannot guarantee that you will not be exposed to COVID-19. By visiting BBG, you voluntarily assume such risks.
If You Are Sick
If you are feeling unwell, please postpone your visit. Use the "cancel ticket" link on your confirmation or contact Showclix at 888-850-8718 to reschedule your visit.
If you have further questions, please contact [email protected].
---
Garden Map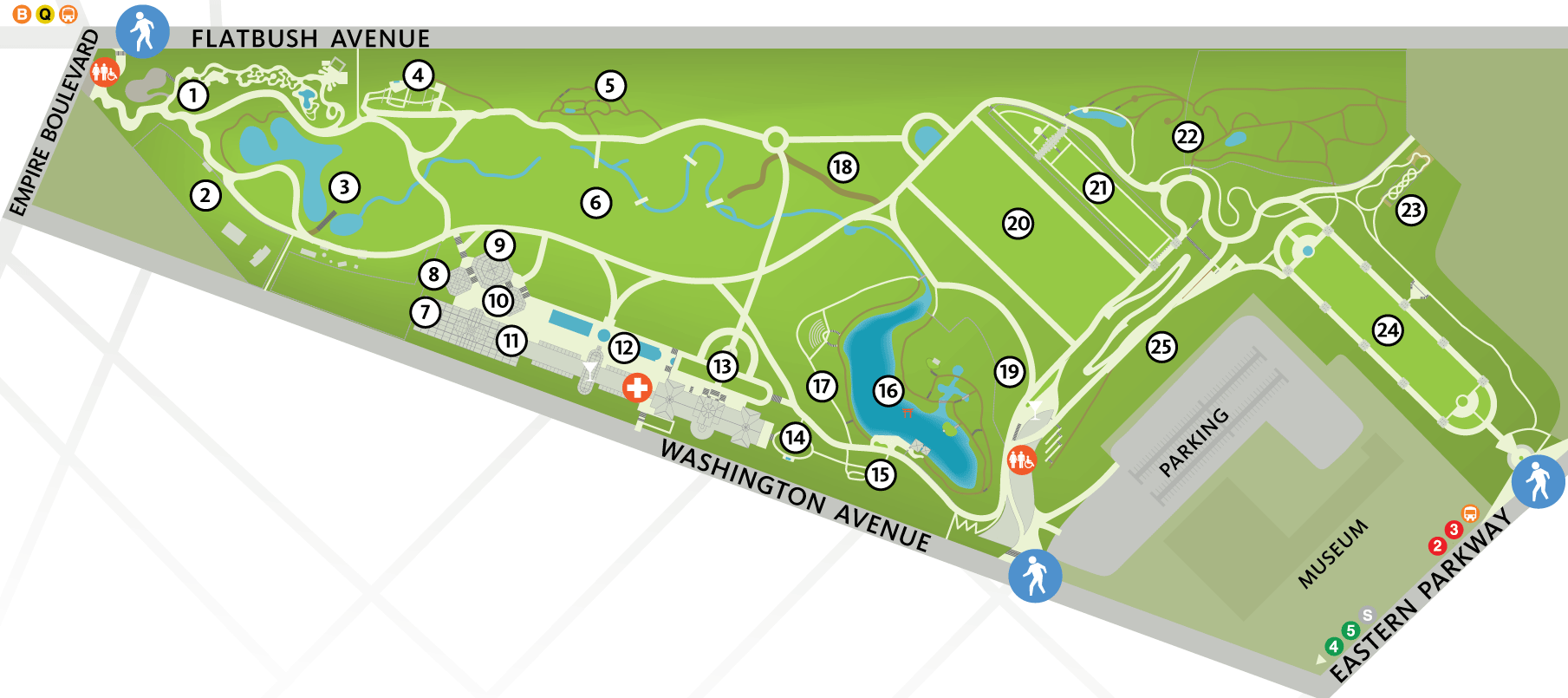 Image, top of page: