Cherry Blossoms at BBG
CherryWatch Blossom Status Map
The cherry trees are not yet in bloom. Check back in March 2014 for updates.
Map Key:
Prebloom
First Bloom
Peak Bloom
Post-Peak Bloom
Cherry Blossoms Over Time
This time-lapse video was created from over 3,000 digital photos, one taken every three minutes from April 18 to April 26, 2008, of BBG's Cherry Walk.
BBG's Cherry Collection
The carmine-rose buds of this hybrid cherry open to lighter tinted flowers before leaves appear. Learn More
More Cherries


Virtual Tour
Visitor Photos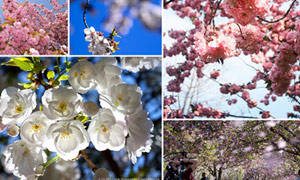 Become a Member