Discovery Programs
Over the next two years, a new, larger Discovery Garden will be created, full of exciting interactive exhibits and plant displays. But don't worry—while it's under construction, there's still plenty to see and do! Stop by the Fragrance Garden for a variety of drop-in programs for families, and pick up a Kids' Discovery Guide to inspire your exploration of Brooklyn Botanic Garden.
Kids' Discovery Stations
Saturdays, April 11–May 9, 2015 | 10:30 a.m.–12:30 p.m.
Sundays, April 12–May 10, 2015 | 1–3 p.m.
No programs April 25–26
Drop by the Fragrance Garden to learn about amazing plants. Listen to a garden story, meet and touch composting worms, use science skills to investigate nature, and pot up a plant to take home.
Learn More
Download the Kids' Discovery Guide
While the Discovery Garden is growing, explore the rest of BBG as a family and learn about the plant world. Download the Discovery Guide for activities around the Garden and playful challenges for the whole family.
Download the Guide (PDF)
On cold winter days, you may notice the leaves of rhododendrons and some other broad-leaf evergreens curling up around the edges. But this doesn't mean the plants are wilting—wilting is a response to a lack of water. Rather, rhododendron leaves curl in response to cold temperatures, a reaction that is called a thermotropism. Thermotropic
Read More
BBG is creating a brand-new garden that will be four times size of the previous Discovery Garden and offer fresh and exciting botanical experiences for families and groups. Designed for kids from 1 to 12 years old, children will be able to explore fascinating habitats, plants, and wildlife through engaging hands-on activities and interactive exhibits.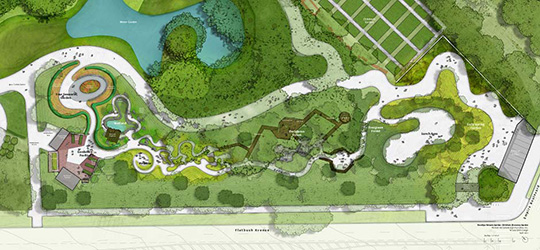 Kids will be able to plant and harvest vegetables in the Hamm Children's Learning Courtyard, scout for wetland wildlife, practice their observational skills in the native wildflower meadow, trek the woodland boardwalk trail, and investigate wonders of the forest floor. And new restroom facilities nearby will make every family's experience comfortable. Incredible landscapes, interactive exhibits to revisit in every season, and great new visitor amenities—the new Discovery Garden is well worth waiting for!
Support the Discovery Garden Expansion project.