Discovery Programs
Over the next two years, a new, larger Discovery Garden will be created, full of exciting interactive exhibits and plant displays. But don't worry—while it's under construction, there's still plenty to see and do!
Drop by the Fragrance Garden from April to October for a variety of drop-in programs for families, and pick up a Kids' Discovery Guide to inspire your exploration of Brooklyn Botanic Garden.
Kids' Discovery Stations
Drop by the Fragrance Garden to learn about amazing plants, meet our composting worms, and read garden stories. Learn about a different theme each week. On weekends, kids can pot up a plant to take home. Free with Garden admission.
All programs are outdoors and canceled in inclement weather; for updates, call 718-623-7200, ext. 7801.
Family Nature Adventure Walks
Celebrate 100 years of kids in the Garden at BBG with fun, interactive walks around BBG's grounds.

Free with Garden admission; preregister online. Meet at the Visitor Center.
All programs are outdoors and canceled in inclement weather; for updates, call 718-623-7200, ext. 7801.
Since its founding in 1914, the Children's Garden has been the cornerstone of Brooklyn Botanic Garden's educational programming—teaching gardening and plant science, instilling healthy eating habits, and fostering a lifelong connection to the environment.
Read More
BBG is creating a brand-new garden that will more than triple the size of the previous Discovery Garden and offer fresh and exciting botanical experiences for families and groups. Designed for kids from 1 to 12 years old, children will be able to explore fascinating habitats, plants, and wildlife through engaging hands-on activities and interactive exhibits.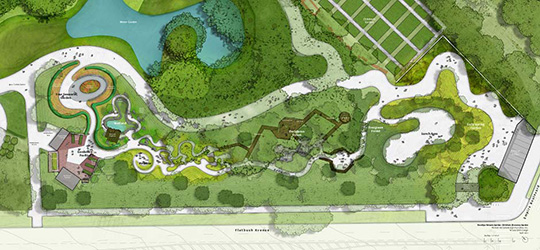 Kids will be able to plant and harvest vegetables in the Hamm Children's Learning Courtyard, scout for wetland wildlife, practice their observational skills in the native wildflower meadow, trek the woodland boardwalk trail, and investigate wonders of the forest floor. And new restroom facilities nearby will make every family's experience comfortable. Incredible landscapes, interactive exhibits to revisit in every season, and great new visitor amenities—the new Discovery Garden is well worth waiting for!
Support the Discovery Garden Expansion project.