Fragrant Designs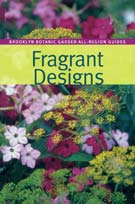 Fragrant flowers and foliage can make the difference between a pretty garden and an unforgettable one! Let this enticing guide take you on a tour of some of nature's most compelling scents.
Making Sense of Scents, by Beth Hanson
Capturing Scent, by Leda Meredith
Perfume for Pollinators, by Janet Marinelli

Air Pollution "Silences" Fragrant Plants, by Beth Hanson

Mixed Messages, by Beth Hanson
Scented Gardens

Fragrant Front Yard Gardens, by Meghan Ray
Wildlife-Friendly Fragrant Hell Strips, by Claire Hagen Dole
Fragrant Native Woodland Gardens, by Janet Marinelli
Scented Evening Gardens, by Meghan Ray
Aromatic Container Gardens, by Jennifer Williams
Fragrant Gardens for Children, by Monika Hannemann
Scented Paths, by Caleb Leech
Fragrant Rose Gardens, by Anne O'Neill
Fragrant Annual and Perennial Vines, by Andrew Bunting

Nursery Sources
Index
Fragrance: A Sensual Science
Beth Hanson
Plants send messages to animals ("Sweet nectar here!" "My leaves are toxic!") and to other plants ("Predator Alert!") encoded in many of the same chemicals that make fragrant plants appealing to humans. We have used these scents for our own ends for eons—as medicines, perfumes, spices, cleaning agents, and to create fragrant gardens. As gardeners we spend a lot of time around plants. By learning how they evolved along with their surroundings and how they use scents to function and communicate, we develop a deeper understanding of the rich relationships among plants and animals. We can create natural havens that give us the opportunity to observe, up close, interactions between fragrant plants and their pollinators and predators. At the same time, we can use scent to create inviting spots for ourselves and for our family and friends.
Draw human and animal visitors to your garden with an offering of fabulous scents. (Photo: Charles Mann.)
In this book, BBG's own gardeners and talented horticulturists from other public gardens show you how to put together delicious-smelling gardens. Fragrance is the focus, but looks don't take a backseat in the eight projects featured here. The evening garden is at its fragrant peak at night, and the light-colored flowers and foliage glow in the moonlight as the plants' scents lure their moth pollinators. Three gorgeous containers bring the aromas of the Mediterranean, Southeast Asian cuisine, and a country dooryard to your terrace, or any other place that you'd like to enrich with yummy scents. The garden of fragrant natives is a layered, naturalistic woodland where local wildlife species will feel right at home. Scented shrubs, perennials, annuals, and vines transform a path, hell strip, front garden, and back patio into vibrant, perfumed spots. In a garden designed especially for children, kids can explore, have fun, and learn, gaining hands-on gardening experience along the way. And the most famous scented plant, the rose, is the star of its own garden, surrounded by other plants that enhance its beauty and perfume.
Each project's author has selected an array of great-smelling plants that blend together into an inspiring design—rendered in a watercolor illustration in the book. Use the gardens in this book as a starting-off point or follow the suggestions of the authors. Either way, you'll welcome the handy tips for planting and maintaining the wonderfully fragrant plants you choose.
Andrew Bunting has been curator at the Scott Arboretum of Swarthmore College since 1993. The arboretum focuses on ornamental collections of woody plants, including hollies, magnolias, rhododendrons, and ornamental vines. For many years he taught the certificate course on ornamental vines at Longwood Gardens. He also owns Fine Garden Creations, a garden-design and installation company started in 1992 and located in Swarthmore, Pennsylvania.
Claire Hagen Dole is the former publisher of Butterfly Gardeners' Quarterly. She edited the BBG handbook The Butterfly Gardener's Guide (2003) and contributed to the BBG handbook Designing an Herb Garden (2004). She lives in Seattle, Washington, and writes about wildlife gardening for numerous publications. Claire's own hell strip was featured in an HGTV segment on gardening in 2002.
Caleb Leech is curator of the Herb Garden and Hardy Fern Collection at Brooklyn Botanic Garden and former curator of BBG's Alice Recknagel Ireys Fragrance Garden. He has gardened almost all his life, in many different climates. He currently focuses on community gardens, shared landscapes, and the connections people feel with plants and place.
Beth Hanson is a former managing editor of Brooklyn Botanic Garden's handbook series and is editor of ten BBG handbooks, including Buried Treasures: Tasty Tubers of the World, The Best Apples to Buy and Grow, Easy Compost, and Natural Disease Control. She also contributed to The Brooklyn Botanic Garden's Gardener's Desk Reference (Henry Holt, 1998). She lives outside New York City, where she is a master gardener volunteer and writes about science and health for various publications.
Monika Hannemann is an urban horticulturist and educator. Until recently, she managed the horticulture and family education programs in BBG's Discovery Garden, an adventure garden for children and families. All the plants in her chapter were tested and approved by young visitors in the Discovery Garden. She also worked with children in New York City schools, helping them connect with plants through gardening and growing food. Monika is currently training to become a certified arborist in Maplewood, New Jersey, and continuing her work with children.
Janet Marinelli is a former director of Publications at Brooklyn Botanic Garden. She has written several books on sustainable landscape design and blogs about all things photosynthetic on her website, janetmarinelli.com. Her work has garnered numerous awards, including the American Horticultural Society's prestigious American Gardener Award for writing "that has made a significant contribution to horticulture" and the 2008 Trudy Farrand/John Strohm magazine writing award from the National Wildlife Federation.
Leda Meredith is an ethnobotanist and an instructor at Brooklyn Botanic Garden and the New York Botanical Garden. She is the author of Botany, Ballet & Dinner from Scratch: A Memoir with Recipes (Heliotrope Books, 2008), and the winner of Adelphi University's 2008 Teaching Excellence Award.
Anne O'Neill has gardened in Ireland, England, and New York. She is curator of the Shakespeare Garden, Alice Recknagel Ireys Fragrance Garden, and members of the Plant Family Collection at Brooklyn Botanic Garden. She also was curator of the Cranford Rose Garden from 2001 until 2008. She has a particular interest in sustainable horticultural practices.
Meghan Ray worked at Brooklyn Botanic Garden from 1994 until 2006 as curator of the Shakespeare Garden, Alice Recknagel Ireys Fragrance Garden, and the Rock Garden, among others. In 2006, she joined the University of California Botanical Garden at Berkeley, where she manages the South African and Palm and Cycad collections. She has a master's degree in garden history and landscape studies from the Bard Graduate Center in New York City and writes and teaches about horticulture and landscape history.
Jennifer Williams has worked at Brooklyn Botanic Garden for almost ten years as a gardener in the Steinhardt Conservatory and specializes in interior display and container design. She is a graduate of the University of Georgia, where she studied drawing and painting. Before joining BBG, she pursued a career in independent filmmaking.