Green Roofs and Rooftop Gardens
Living roofs cool the air, reduce water pollution, extend roof life, and cut energy costs. They also provide green space for city dwellers and habitat for birds and insects.
Green Roofs and Rooftop Gardens
tells the stories behind some of the city's most interesting green roofs and offers tips for starting your own.
Introduction: Greening the Fifth Façade, by Beth Hason
Green Roofs Past, Present, and Future, by Linda S. Velazquez

Benefits of Green Roofs, by Beth Hanson
Green Roof and Living Wall Trends, by Linda S. Velazquez with Haven Kiers

A Green Roof Glossary, by Tracey Faireland
Transforming the Big Apple, by Beth Hanson

Cook + Fox Architects
Brooklyn Heights Carriage House
Con Edison Training Center
Brooklyn Grange
Lincoln Center's Illumination Lawn
Bronx Design and Construction Academy
West Village Loft
The Brook
Five Borough Administration Building
The Solaire
USPS Morgan Distribution Center
Regis High School
Brooklyn Botanic Garden Visitor Center

The Nuts and Bolts of Construction, by Yessica Mariñez
Green Roof Horticulture, by Edmund C. Snodgrass
Going Native?, by Edward Toth And Matthew I. Palmer
Rooftop Container Gardening, by Meredith Ford
Bringing a Green Roof to Your School, by Elizabeth Peters
For More Information
Index
Greening the Fifth Façade
Beth Hanson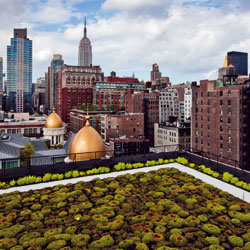 The view from the living roof of Cook + Fox, an architecture firm in Manhattan, shows that a growing number of urbanites are greening their rooftops.
Traditional black tar and asphalt roofs are affordable, watertight, and ubiquitous. They are also, unfortunately, extremely good at absorbing heat and repelling moisture. These attributes put them near the top of the list of contributors to both the urban heat island effect and the combined sewage overflow problems that plague cities around the world. By laying a mantle of earth and vegetation on a rooftop, a building owner can mitigate, in a small but measurable way, these ills. A green roof absorbs rainfall, lowers rooftop temperature, and offers other benefits too. It extends roof life, earns points toward LEED (Leadership in Energy and Environmental Design) certification, creates wildlife habitat, and garners good publicity. And for many people, installing one is simply the right thing to do. These benefits will become even more important as temperatures and the volume of rainfall rise globally—as climate models predict they will.
The idea of insulating buildings with earth is not new. It has appeared in many incarnations around the world for thousands of years. What is new is the use of modern, lightweight materials to capture water and create conditions in which plants can thrive. Over the past several decades, European researchers have honed this technology, and Americans have brought the concept home. Chicago, Philadelphia, Seattle, and New York are among the cities actively using green roofs to help address water quality and infrastructure problems. Green Roofs for Healthy Cities, a North American industry association, reports that its members installed 4.3 million square feet of green roofs in 2010, twice the number of the year before.
The following pages explore the history of vegetated roofs, the structural engineering beneath them, and the plants best suited for them. Practical advice is included for readers who want to embark on their own projects. Also featured are profiles of an array of New York City green roofs, including a rooftop farm in Queens, a colorful retreat on a public housing development in the South Bronx, and BBG's own water-capturing rooftop meadow. Most of these roofs are high up and out of sight for all save a small number of city dwellers, but as more and more are built, their benefits will accrue and be felt by everyone.
Tracey Faireland is a professional engineer, licensed general contractor, and the director of Capital Projects at Brooklyn Botanic Garden, where she is overseeing the design and construction of projects within BBG's Campaign for the Next Century, including a LEED-certified Visitor Center, storm-water management system, and water conservation project.
Meredith Ford is a freelance writer and editor. She was formerly the editor of Brooklyn Botanic Garden's Plants & Gardens News and managing editor of BBG's online peer-reviewed science journal, Urban Habitats. She was the associate editor of BBG's handbook Edible Gardens and attempts her own edible gardening in her Brooklyn backyard.
Beth Hanson is a former managing editor of Brooklyn Botanic Garden's handbook series and has edited 11 BBG publications, including The Best Apples to Buy and Grow and Easy Compost. She also contributed to BBG's Gardener's Desk Reference (Henry Holt, 1998) and writes about gardening, science, and health for various publications, including Organic Gardening magazine. She lives outside New York City, where she is a master gardener volunteer.
Haven Kiers is an accredited LEED (Leadership in Energy and Environmental Design) professional and founding partner of GreenSwell Design and Planning, a green infrastructure design firm. She writes for Greenroofs.com, is a trainer with Green Roofs for Healthy Cities, and teaches a course on green roofs at the University of California-Davis Extension.
Yessica Mariñez is a project associate at Rand Engineering & Architecture, where she leads the firm's green team, specializing in green roofs and other sustainable design projects. She holds professional accreditation with LEED and the Building Performance Institute. She also administered the first green roof installation at the Fashion Institute of Technology and is working with FIT on its second green roof.
Matthew I. Palmer is a botanist and faculty member in the Department of Ecology, Evolution, and Environmental Biology at Columbia University. His research interests are rooted in community ecology, with emphases on conservation, restoration, and ecosystem function, from which his research on green roofs extends.
Elizabeth Peters is the director of Digital and Print Media at Brooklyn Botanic Garden, where she publishes the Guides for a Greener Planet imprint and oversees the Garden's website, bbg.org. She edited the BBG books Edible Gardens, Community Gardening, and The Tree Book for Kids and Their Grown-ups. Formerly, as director of the Austin Film Society, Peters coached independent filmmakers on crafting proposals, fundraising, and collaboration on large creative projects.
Sarah Schmidt is an editor at Brooklyn Botanic Garden. She has also written about sustainability and urban issues for newspapers and magazines, including OnEarth, The New York Times, New York Magazine, and Plenty. She lives in Brooklyn, where she tends five window boxes and her co-op's backyard garden.
Edmund C. Snodgrass, a fifth-generation farmer and nurseryman, is president and founder of Emory Knoll Farms and Green Roof Plants. Snodgrass collaborates on green roof research with academic institutions and advises botanic gardens, including the Singapore Botanic Garden and the U.S. Botanic Garden, on green roof installations. He is the coauthor of Green Roof Plants: A Resource and Planting Guide (Timber Press, 2006), The Green Roof Manual (Timber Press, 2010), and Small Green Roofs (Timber Press, 2011).
Edward Toth is the director of the Greenbelt Native Plant Center, a 13-acre nursery, greenhouse, bulk-seed resource, and seed bank facility owned and operated by the New York City Department of Parks and Recreation. In addition to working toward the conservation of the region's native flora, Toth and his team began efforts in 2012 to organize a mid-Atlantic regional seed bank as part of the national Seeds of Success program.
Linda S. Velazquez is founder and publisher of Greenroofs.com, where she writes and reports about green roofs and walls. She is an associate member of the American Society of Landscape Architects, an accredited LEED professional, and an accredited green roof professional through Green Roofs for Healthy Cities. She is also principal of Sky Gardens Design, a green roof design and consulting firm in Alpharetta, Georgia.