BBG's Real-Life Training Program for Community Volunteers
Learn + Grow + Connect + Serve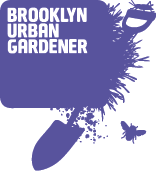 The Brooklyn Urban Gardener (BUG) program serves as a mutually beneficial bridge connecting the educational resources of Brooklyn Botanic Garden to the greening efforts of Brooklyn's communities.
Upon completing all coursework and required volunteer hours, graduates are certified as Brooklyn Botanic Garden BUG volunteers.
Certified BUGs then continue to support greening projects at schools, senior centers, block associations, community gardens, and other organizations.
BUG students can expect an experiential, train–the–trainer program. Using a hands–on, participatory education model, the course includes instruction in sustainable horticultural practices suited to the urban environment, street tree stewardship, community engagement practices, effective teaching methods, and an overview of the greening resources available in Brooklyn. The training is free.
The BUG certificate program consists of
35 hours of interrelated, intensive workshops spread out over ten sessions in eight weeks. These workshops cover the essentials of urban gardening and community greening and take place on evenings and weekends at Brooklyn Botanic Garden or partnering community gardens.
30 hours of volunteering for an assigned project. Working in teams, students collaborate with Brooklyn-based organizations to support real-life, local community greening projects.
Required reading and homework assignments each week.
Regular group presentations to the class on the team's progress and challenges.
The 2015 deadline for applications was June 1. We are no longer accepting applications for this year's course.
A select number of applicants are chosen to participate in a group interview. From those, the class of 15 students is chosen and announced in July. Previously unsuccessful applicants are encouraged to reapply. Classes begin in mid–September and run into November. Graduation takes place in January.
Got questions? Check the BUG FAQ page. You can also email us at [email protected] or call 718-623-7250.
FAQ
Who are BUGs?
BUGs are Brooklyn Urban Gardeners—BBG volunteers who have completed a demanding certification process preparing them to assist and lead community greening projects throughout Brooklyn. BUGs love people, plants, teaching, and gardening. Above all, they are community–minded citizens willing, able, and eager to be of service in making Brooklyn a greener place.
What is BBG looking for in a BUG?
The BUG program enrolls an intergenerational, multicultural mix of adults from diverse economic and educational backgrounds. BUGs are adult residents of Brooklyn and devoted lifelong learners with varying levels of gardening expertise who know that plants can bring people together. The best candidates have experience with civic engagement and volunteerism.
What is GreenBridge?
GreenBridge is the community environmental horticulture program of Brooklyn Botanic Garden. It promotes the greening of the urban environment and reach over 50,000 Brooklyn residents a year through free educational workshops, conservation initiatives, and creative partnerships. Besides BUG, GreenBridge projects include Making Brooklyn Bloom, the Community Garden Alliance, the Greenest Block in Brooklyn contest, and the Street Tree Stewardship Initiative.
When does BUG training take place?
The BUG certificate program is held once annually over the fall and winter. In–class time is scheduled for eight Thursday evenings (6—9 p.m.) and two (nonconsecutive) weekend days to avoid conflicting with typical workday hours. Workshops take place from mid-September to early November, but each team's community project hours may extend into January. Together with their project team and staff mentor, students devise a workable community service schedule. BUG candidates are expected to graduate in January.
Check this page for updates on the workshop schedule for BUG 2016.
Is there tuition or a fee?
The BUG program is completely free. This training is designed for people who intend to volunteer for GreenBridge of Brooklyn Botanic Garden on an ongoing basis and serve approximately 20 hours per year after graduation to maintain BUG certification.
What is the time commitment for being a BUG?
It's significant. Students are expected to attend every single session of class (35 hours), do required reading and homework each week, and devote a minimum of 30 hours to their assigned community team project, including preparing a team presentation for a graduation event held in January.
After graduating, BUGs are regularly informed of community greening projects seeking volunteers. To maintain certification, BUGs are expected to continue to volunteer approximately 20 hours per year.
Where are BUG classes held?
Most evening classes are held in BBG's classrooms and education greenhouses. In addition, time is spent on BBG grounds and visiting local community gardens. Each community team project also involves a garden site that serves as an outdoor classroom.
What subjects are covered in BUG classes?
BUG covers a lot of ground in only eight weeks! Topics include asset–based community building, city soils, basic composting, growing food, water-wise gardening, conflict resolution, gardening with native plants, streetscape gardening, and more.
Who teaches BUG?
BUG workshops are led by a dedicated staff of GreenBridge educators. Highly qualified guest instructors also bring wisdom from their specific areas of expertise. BUG's facilitators believe that everyone learns, and everyone teaches. The BUG program's approach honors the rich experience that each student brings with her or him and incorporates small–group learning, hands-on work, role playing, and of course, the invaluable challenges of partnering with fellow BUG students and community stakeholders in the field.
I'm already a community greening volunteer. What can I gain from a BUG certificate?
Experienced greening volunteers can be great candidates for BUG; you are able to teach your fellow students while deepening your own understanding of and commitment to community greening. You'll experience a new project, work with a team, increase your confidence as a teacher, and network with fellow students and instructors, all while becoming part of a remarkable community of BBG volunteers.
What are the community team projects like?
Every year, GreenBridge screens the many requests received for BUG volunteers, carefully seeking out the best fit for the program. BUG students then have an opportunity to state their preference for one of three community greening projects. A team of four or five students is selected to work on each project: a community garden improvement project, a school gardening project, and a streetscaping project.
Does working on my personal community greening project(s) count toward my required 30 service hours?
No. Only work on your assigned BUG team project counts toward your certification. However, after graduation, you may count this work toward the 20 hours needed to maintain certification.
Does everyone who applies get accepted to the program?
No. Fifteen students are accepted each year. We receive many more applications than there are spots available. Applications are reviewed in June. Once the number of prospective students has been narrowed down, group interviews are held in July to select the next class of 15 BUGs.
If I'm not accepted this year, can I reapply next year?
Yes! The admission process is strongly influenced by geographical location of applicants, so try, try again.
How can I learn more about whether the BUG program is right for me?
One way is to attend the next Making Brooklyn Bloom conference, held at Brooklyn Botanic Garden each March. Lots of BUG graduates are on hand to help answer questions.
More questions? Contact GreenBridge at [email protected] or 718-623-7250.
Image, top of page: