Street Tree Stewardship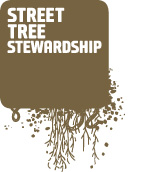 Are you interested in making Brooklyn a cleaner and greener place to live and grow? The Street Tree Stewardship initiative empowers everyday New Yorkers to correctly care for their trees.
Trees face many natural and man-made threats and require ongoing maintenance, including regular watering and tending to the tree bed. Brooklyn Botanic Garden, in partnership with the NYC Parks and Recreation Department and other organizations in NYC, aims to educate people about the proper care of tree beds for both beautification and the health of trees throughout Brooklyn. Our common goal is to ensure the survival of thousands of trees planted by MillionTreesNYC, as well as those already growing along our streets.
To learn how you can get involved, contact [email protected] or call 718-623-7385.
Support
Brooklyn Botanic Garden gratefully acknowledges support for this program from the NYS Office of Parks, Recreation and Historic Preservation, the NYS Assembly and NYS Senate, NYC Department of Cultural Affairs, and the NYC Council.
Major Sponsor, Community Greening Programs