100 Garden Tips and Timesavers
See Table of Contents
Gardening Techniques

Deadheading Annuals for Repeat Blooms
Pinching for Compact Plants
Saving Seeds of Annual Flowers
The Benefits of Raised Beds
Extend the Season With Cold Frames
A Moss Carpet for Shade
Keeping a Moss Lawn Tidy
Low-Maintenance Hedges
Pruning for Proper Hedge Shape
When to Prune Flowering Shrubs
Pruning Hybrid Tea Roses
Rejuvenating Flowering Shrubs
Take Advantage of Microclimates
Grow Drought-Tolerant Plants
Harvesting Rainwater
Keeping Track of Rainfall
Plastic Jug Irrigation
Supporting Tall Flowers
Protect Tree Trunks With Plants
Edging Beds and Borders
Containing Aggressive Plants
Giving Caladiums a Head Start
Spring-Bulb Basics

Improving the Soil

Winter Rye as a Cover Crop
What to Do With Autumn Leaves
Compost Fundamentals
Making Compost Last Longer
A Recipe for Compost Tea
Lasagna Gardening
What, When, and How to Mulch
Making Use of Wood Ash

Pest Controls

Attracting Birds, the Ultimate Insecticide
Safe, Easy Insecticidal Soaps
Saving Seedlings With Cutworm Collars
Cabbageworm Protection
Keeping Slugs Under Control
Deer Deterrents That Work
Using Kitchen Supplies to Control Weeds

Propagation

Making More African Violets
Dividing Clumps of Herbaceous Perennials
Overwintering Plants With Cuttings
Making More Woody Perennials
Keeping Seeds Viable
An Easy Way to Start Seeds
Thinning for Healthy Seedlings

Garden Design

Creating a Garden Plan the Easy Way
Providing Fall Color With Hardy Annuals
Keeping Borders Colorful
Creating Vertical Accents
Low-Maintenance Plantings for Slopes
Fast-Growing, Moveable Screens
Liven Up Fall With Ornamental Grasses
Nurture a Self-Sown Garden
Making a Moon Garden
Easy Monochromatic Gardens

Container Gardening

Container-Gardening Tips
Great Plant Combos for Pots
Getting Creative With Containers
Growing Herbs in Small Spaces
Mini-Vegetables for Containers
Overwintering Potted Plants
Making the Most of Portable Pots

Gardening Indoors

Make Your Cut Flowers Last
Dry Flowers for Winter Bouquets
Forcing Bulbs for Winter Bloom
Paperwhite Narcissus: The Easiest Indoor Bulb
Harvest Veggies From Your Windowsill
Fresh-Picked Herbs Year-Round
Overwintering Tender Perennial Herbs
Safe and Easy Pest Control
Make Your Poinsettias Last
The Best Way to Water Houseplants
How to Water While You're on Vacation

Vegetables

Weed-Free Asparagus Beds
Harvest Beans All Summer Long
Making More Broccoli
Increasing Your Corn Crop
Interplanting Corn and Pumpkin to Save Space
Temporary Greenhouses for Seedlings
Getting a Bumper Crop of Long-Season Veggies
Double Your Harvest With Intercropping
Hardy Vegetables for the Late-Season Garden
Protecting Vegetables From Late-Season Cold
Jump-Starting Onions, Shallots, and Garlic
Grow Shallots in Raised Beds
Late-Season Planting of Alliums
Supporting Peas
Storing Hardy Vegetables
Six Ways to Support Tomatoes
Ripening Tomatoes Indoors in Fall
What to Do With a Bumper Crop
Vertical Vegetable Gardening

Trash to Treasure

Compost Bins Made of Reused Materials
Golf-Bag Tool Carrier
Herbal Place Cards
Homemade Soaker Hose
Mailbox Garden Storage
New Lives for Clay Flowerpots
Panty Hose "Rope"
Reusing Toy Wagons

Index and Contributors
Introduction
Tips and Timesavers
Walter Chandoha
To get the most from my garden, I endlessly experiment with techniques such as succession planting.
Gardeners share a universal problem—we don't have enough time. There simply are not enough hours in the day for our many projects: sowing, transplanting, and dividing plants; designing, building, and renovating gardens—not to mention the constant chores of weeding, pruning, and composting. There are regions of North America that allow gardening almost year–round, but most of us have just six to eight months in which to fit everything from spring planting to fall harvest cleanup. And that's in between pursuing our careers and everything else we like to do during the summer, like swimming, golfing, visiting friends, and traveling!
In my more than 40 years of dirty jeans, calloused hands, and learn–as–I–go gardening on my 46–acre farm in northwestern New Jersey, I have planted many gardens with flowers, vegetables, fruits, herbs, and ornamental grasses. I've tried to make the most of my time in the garden by using a combination of inspiration, ingenuity, and a fair amount of common sense to find shortcuts to a beautiful, healthy, abundant garden.
Among the nine chapters in this handbook are "Gardening Techniques," "Improving the Soil," "Pest Controls," "Propagation," and "Vegetables," which include tips and techniques I've used over the years to protect and enhance the soil, save time and effort in watering, and extend the blooming or growing seasons of my flowers and vegetables.
As part of my career as a nature photographer, I've experimented with garden designs to achieve exciting color, texture, and composition in borders and container gardens throughout the seasons. The tips in "Garden Design" and "Container Gardening" will help you plan and create your own garden environments. In "Gardening Indoors" are ways to expand the space and season limits of your garden by growing plants indoors, as well as methods for preserving flowers and herbs for enjoyment year–round.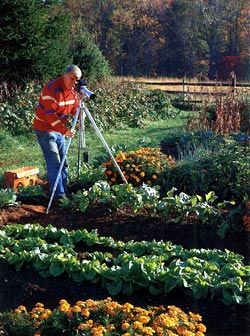 As part of an ongoing project, I have been photographing my gardens from the same vantage points over each of the four seasons of the year.
Finally, in "Trash to Treasures," I have applied my tendency toward frugality—something that seems to come naturally to gardeners—to think of ways to reuse materials on hand. None of the tips in this handbook call for materials fancier than cement blocks or wooden boards, and many call for recycling household "junk" like plastic jugs or items that have outlived their original use. For example, it dawned on me that my old golf bag and cart—fallen into disuse as my passion for gardening overtook my love of golf—would make a great carrier for long–handled tools. Not only does it work well in its new capacity but I've saved three or four cubic feet of landfill space.
100 Garden Tips and Timesavers has color-coded chapter bars for quick reference to general topics like gardening techniques and vegetables, and each tip is described with step–by–step instructions. Keep it handy for inspiration—it can even go with you to the garden, perhaps nestled in your golf–bag tool carrier!