Enjoy magical access to the Garden's famous Kanzan trees!

Find a spot on Cherry Esplanade to enjoy the cherry blossoms, lit up for maximum effect, and savor the spring vibe with family and friends. Stroll in the Japanese Hill-and-Pond Garden and along Cherry Walk, and view a curated display of bonsai in the Visitor Center. The evenings feature live performances, a bar selling Japanese beer and cocktails, and Japanese snacks (while supplies last).

Advance tickets required. Special discounts for Garden members.

This event is sold out. There are no tickets available.
Know Before You Go
Advance tickets required.
Enter at 990 Washington Avenue. Nearest subways: 2/3 to Eastern Parkway—Brooklyn Museum or 4/5 to Franklin Avenue (no elevator).
Doors open at 5 p.m. The event takes place on and around Cherry Esplanade and other areas of the Garden are closed. There is no reentry.
You may bring a blanket or stadium chair (no folding chairs, please). There will be a small section reserved for wheelchairs and people who require a seat. If you require an accessibility accommodation, please contact [email protected].
Please observe all Garden rules, including:

Please do not lean on tree trunks, hang items from trees, or shake the cherry blossom branches.
No outside food or beverages. (Baby bottles and pocket snacks for individuals with dietary restrictions are allowed.)
Please properly dispose of your trash and do not pour liquids or ice on the lawn.

Rain dates: In the event we must cancel due to weather, we will notify you by 2 p.m. and tickets and food purchase will transfer to the rain date, which is Tuesday, May 2 for Tuesday, April 25 or Wednesday, May 3 for Wednesday, April 26. Tickets are nonrefundable.
Japanese Drinks & Snacks
Bento boxes curated by the Garden's new executive chef, Caroline Hahm, are available for advance purchase. Beverages and snacks will be sold at the event; please check back for details. Please note: Outside food is not permitted.

Last day for guaranteed purchase is Wednesday, April 19. Members receive a 10% discount.
Bento Box #1: Miso Chicken

Miso-marinated chicken, seasoned onigiri, fukujinzuke pickles, miso-marinated kabocha squash, spring mix salad, carrot ginger dressing.
$24 ($21.60 members)

Bento Box #2: Seared Tofu

Seared tofu, seasoned onigiri, fukujinzuke pickles, miso-marinated kabocha squash, spring mix salad, carrot ginger dressing.
$22 ($19.80 members)

Bento Box #3: Crudités

Shareable mix of raw vegetables, beet hummus.
$16 ($14.40 members)
Activities & Performances
Bonsai Display
View a selection of bonsai specimens from the Garden's famous collection on exhibit in the Atrium.
Japanese Folk Dance Institute
The Japanese Folk Dance Institute of N.Y. studies, preserves, and performs beautiful folk dances from around Japan.
Ka-Na (Tuesday only)
Ka-Na is a gold record–selling singer, songwriter, and guitarist from Japan.
Hudson Valley Shakuhachi Choir (Wednesday only)
The Hudson Valley Shakuhachi Choir explores the resonant overtones and rich timbre of the Japanese bamboo flute. The repertoire includes traditional shakuhachi pieces, folk music, and contemporary works.
Hanami Nights Map
Click or tap below for full-size map.
Show larger map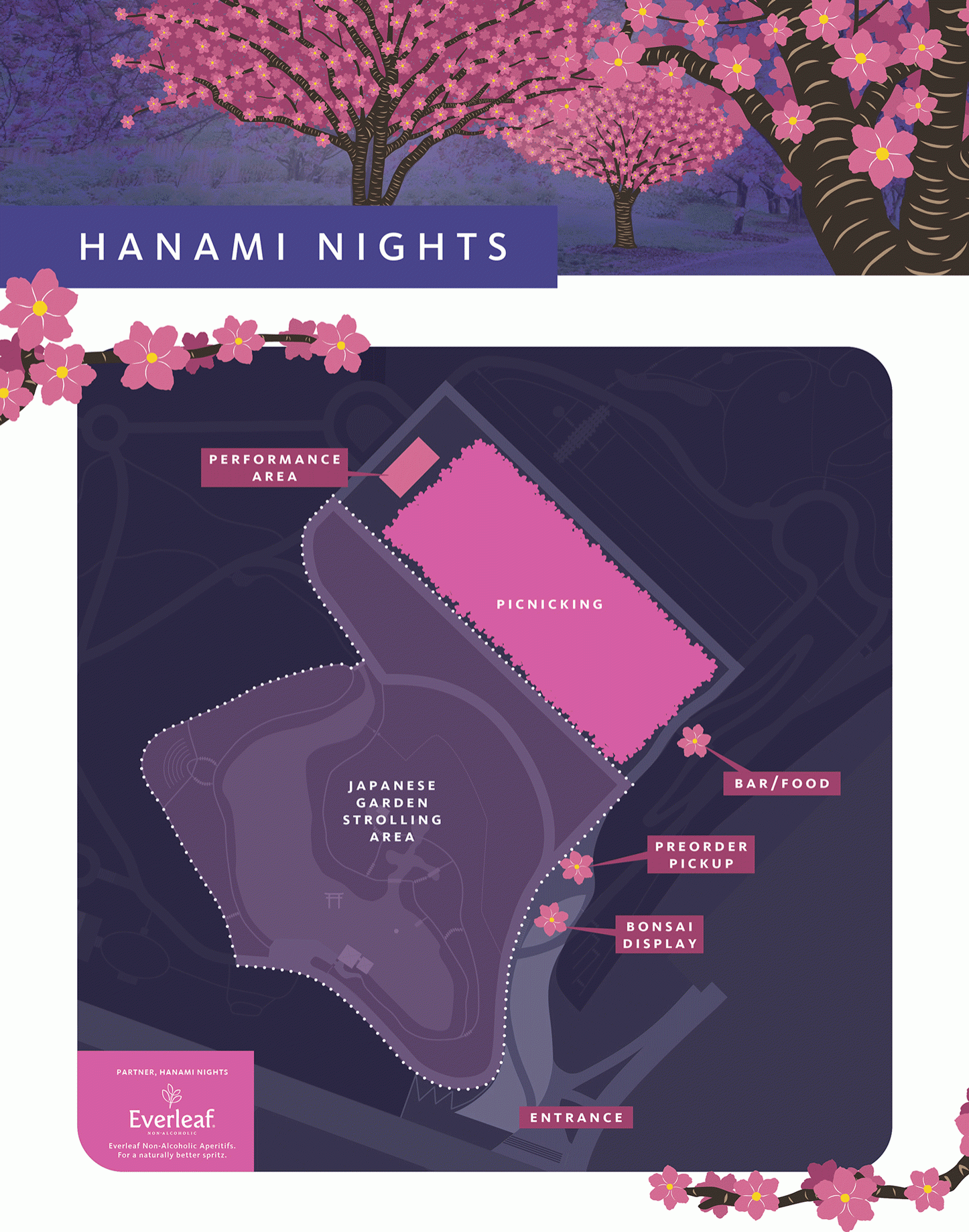 Partner