Spring Beauty—A Woodland Wildflower With Tasty Tubers
One of our prettiest and earliest-blooming wildflowers—spring beauty (Claytonia virginica)—is also a delicious vegetable. It may be the definitive tater tot. Native to moist woodlands, sunny stream banks, and thickets in eastern North America, this low-growing plant has tiny underground tubers that can be prepared and eaten just like potatoes. Indeed, another common name for the spring beauty is the "fairy spud."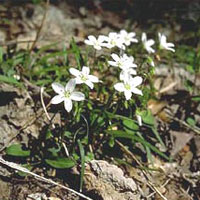 Claytonia virginica
Photo by Jim Stasz at USDA-NRCS PLANTS Database
A member of the Portulacaceae, or portulaca family, and a cousin to other well-known wild edibles such as purslane (Portulaca oleracea) and miner's lettuce (Montia perfoliata), spring beauty is one of about 15 species in the Claytonia genus. The genus is distributed throughout North America and Australasia and has long been a source of good snacking. Both the Iroquois and Algonquin dined on the boiled or roasted tubers of Claytonia virginica.
A perennial herb, spring beauty usually grows about six inches tall and eight inches wide. It sports grasslike, succulent, dark green leaves. In early spring, dense racemes of star-shaped, pink-tinged white flowers appear and last for about a month. When spring beauties blossom in large drifts across the landscape, the effect is stunning.
The tubers are found about two to three inches under the soil and measure from a half inch to two inches in diameter. In his classic culinary field guide, Stalking the Wild Asparagus, Euell Gibbons wrote a charming chapter on these wild edible treats. He remarked that the "spuds" don't really taste like potatoes at all but rather are sweeter in flavor, like boiled chestnuts, though with a softer, smoother texture.
However, even back in 1970, Gibbons sounded a note of caution and restraint. He warned against overharvesting the tubers in the wild and diminishing the plants' flowering display. "The tubers are good food for the body," he wrote, "but after a long winter, the pale-rose flowers in early spring are food for the soul."
These days, wild collection of spring beauty and other native plants is controversial, due to issues of sustainability. (In at least one state—Massachusetts—spring beauty is now listed as endangered!) In any case, it's not necessary to harvest native edibles when we can grow them at home as a renewable delight.
Spring beauty is easy to grow in the garden and makes a handsome addition to the sunny or partially shaded wildflower collection. Just make sure to purchase your plants from nurseries that propagate their plants on-site rather than dig them from the wild. One good source is Gardens of the Blue Ridge (P.O. Box 10, Pineola, NC 28604; 704-733-2417; www.gardensoftheblueridge.com).
Hardy from USDA Zones 5 to 9, spring beauty is more often than not an ephemeral; the foliage tends to wither and fade away over the summer. Propagation of the plant is via autumn-sown seed or small tubers. Grow it in a humus-rich but sharply drained soil. If your soil is a little too sodden, work in plenty of sharp sand or turkey grit.
It's best to harvest the tubers when the plants are in full bloom. This can be a challenge given the charming nature of the flowers. It also takes a lot of tubers to feed one person. However, damage to spring beauty beds can be minimized by replanting the tiniest of the tater tots and letting the beds rejuvenate for a couple of years between harvests.
The tiny, sweet tubers are high in potassium and vitamin A and are a good source of calcium and vitamin C. They can be eaten raw, boiled, fried, roasted, or mashed. They're good in stews or casseroles or cooked with peas like new potatoes. The young foliage and stems may also be eaten raw in salads or steamed and served as greens. The flowers make an attractive edible garnish for hors d'oeuvres, cheeses, pâtés, and the like.
The easiest way to prepare the tubers is by washing them and boiling them in lightly salted water for 10 to 15 minutes, depending on size. When cooked, drain the tubers, anoint them with a little olive oil or a knob of unsalted butter, add salt and pepper to taste, and garnish with chopped parsley, chives, or chervil. Some people prefer to peel off the jacket before eating their fairy spuds, but I like to gobble them whole.
Salade Niçoise Amuse-Gueule
(A novel approach to the classic salad: makes 24 canapés)
24 spring beauty tubers, boiled, chilled, and halved
12 quail eggs, hard-boiled, shelled, chilled, and halved lengthwise
1 can of high-quality tuna in olive oil, drained and flaked
24 niçoise or picholine olives, pitted
12 anchovy fillets, halved lengthwise to make 24 strips
1 generous cup of mâche (lamb's lettuce), washed and spun dried
48 haricots verts, boiled and chilled
24 slices of French-style baguette, sliced 5-inch thick, brushed with olive oil and lightly toasted, cooled
Unsalted butter, softened
Butter the baguette toasts and adhere a little mâche to each. Divide and artfully arrange the rest of the ingredients on the toasts and serve.