The Helen Mattin Warm Temperate Pavilion houses trees, shrubs, vines, bulbs, and ground covers that represent the diversity of plant life in warm temperate regions around the world, including the Mediterranean basin; South Africa; Australia; New Zealand; Eastern Asia; western coastal regions of North America (mainly California); and western coastal regions of South America (mainly Chile).
Warm temperate climate is characterized by cool, wet winters and hot, dry, droughty summers. Plants in these climate zones have special adaptations that allow them to survive seasonally harsh conditions, especially drought, and in some cases, fire. The Pavilion is particularly brilliant in February and March when BBG's expansive collection of South African bulbs is in full bloom.
Plants
Must-see plants in the Warm Temperate Pavilion include the rare Wollemi pine; the agriculturally important olive tree from the Mediterranean region; the very distinctive bunya-bunya tree of northeastern Australia; and BBG's special collection of South African bulbs and other warm temperate geophytes, which bloom from late winter to early spring.
Curator Karla Chandler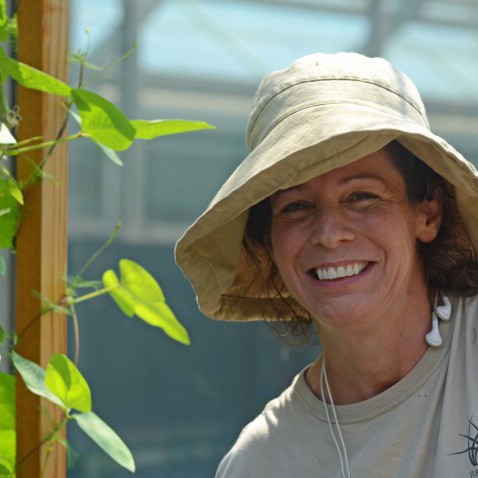 Karla Chandler's public gardening career began at The Prospect Park Zoo where she was employed on the horticulture staff. In 1999 she began working at BBG as a gardener aide. She was promoted to gardener in 2001 and put in charge of the Warm temperate plants, which include an extensive South African Bulb Collection. She has made two trips to South Africa to study and explore the unique geophytes. In addition to her focus on creating a naturalistic and educational display she is interested in soil health and is incorporating compost teas and organic fertilizers in the Pavilion. She also designs and installs the four-season container display at BBG's Terrace Café.
Image, top of page: