Green Roofs and Rooftop Gardens
See Table of Contents
Introduction: Greening the Fifth Façade, by Beth Hason
Green Roofs Past, Present, and Future, by Linda S. Velazquez

Benefits of Green Roofs, by Beth Hanson
Green Roof and Living Wall Trends, by Linda S. Velazquez with Haven Kiers

A Green Roof Glossary, by Tracey Faireland
Transforming the Big Apple, by Beth Hanson

Benefits of Green Roofs, by Beth Hanson
Green Roof and Living Wall Trends, by Linda S. Velazquez with Haven Kiers
Cook + Fox Architects
Brooklyn Heights Carriage House
Con Edison Training Center
Brooklyn Grange
Lincoln Center's Illumination Lawn
Bronx Design and Construction Academy
West Village Loft
The Brook
Five Borough Administration Building
The Solaire
USPS Morgan Distribution Center
Regis High School
Brooklyn Botanic Garden Visitor Center

The Nuts and Bolts of Construction, by Yessica Mariñez
Green Roof Horticulture, by Edmund C. Snodgrass
Going Native?, by Edward Toth And Matthew I. Palmer
Rooftop Container Gardening, by Meredith Ford
Bringing a Green Roof to Your School, by Elizabeth Peters
For More Information
Contributors
Index
Introduction
Greening the Fifth Façade
Beth Hanson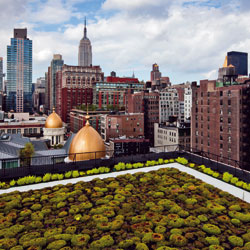 The view from the living roof of Cook + Fox, an architecture firm in Manhattan, shows that a growing number of urbanites are greening their rooftops.
Traditional black tar and asphalt roofs are affordable, watertight, and ubiquitous. They are also, unfortunately, extremely good at absorbing heat and repelling moisture. These attributes put them near the top of the list of contributors to both the urban heat island effect and the combined sewage overflow problems that plague cities around the world. By laying a mantle of earth and vegetation on a rooftop, a building owner can mitigate, in a small but measurable way, these ills. A green roof absorbs rainfall, lowers rooftop temperature, and offers other benefits too. It extends roof life, earns points toward LEED (Leadership in Energy and Environmental Design) certification, creates wildlife habitat, and garners good publicity. And for many people, installing one is simply the right thing to do. These benefits will become even more important as temperatures and the volume of rainfall rise globally—as climate models predict they will.
The idea of insulating buildings with earth is not new. It has appeared in many incarnations around the world for thousands of years. What is new is the use of modern, lightweight materials to capture water and create conditions in which plants can thrive. Over the past several decades, European researchers have honed this technology, and Americans have brought the concept home. Chicago, Philadelphia, Seattle, and New York are among the cities actively using green roofs to help address water quality and infrastructure problems. Green Roofs for Healthy Cities, a North American industry association, reports that its members installed 4.3 million square feet of green roofs in 2010, twice the number of the year before.
The following pages explore the history of vegetated roofs, the structural engineering beneath them, and the plants best suited for them. Practical advice is included for readers who want to embark on their own projects. Also featured are profiles of an array of New York City green roofs, including a rooftop farm in Queens, a colorful retreat on a public housing development in the South Bronx, and BBG's own water-capturing rooftop meadow. Most of these roofs are high up and out of sight for all save a small number of city dwellers, but as more and more are built, their benefits will accrue and be felt by everyone.
Image, top of page: Tara Thayer