Botanical Boombox: Brooklyn Branch
Cement, resin, stainless steel, wood, lighting, audio & solar power system
9 ft. × 9 ft. × 10 ft.
Sherwin Banfield
AnkhLave Public Artist in Residence
Botanical Boombox: Brooklyn Branch takes the form of a solar-paneled tree that bears fruit representing hip-hop artists that blossomed out of Brooklyn neighborhoods. The tree is a metaphor for hip-hop, says artist Sherwin Banfield. "It supplied a cultural canopy to communities by offering stimulation, inspiration, and activation through music, dance, spoken word, and visual art." Visitors to this sculpture will learn about and hear samples from Brooklyn's hip-hop contributions.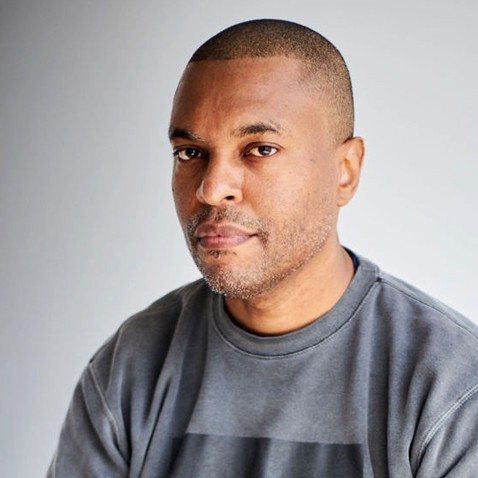 Sherwin Banfield is a Queens-based artist whose work explores journeys of identity and ancestry. His Sustainable Sonic Sculpture projects combine lighting, sound, and solar power with traditional sculpture. Banfield holds a BFA from Parsons School of Design and studied sculpture at the Art Students League of New York. He is a recipient of the Augusta Savage Grant, the Downtown Brooklyn Dumbo Art Fund Grant, and the NYC Art in the Parks grant.
Artist website: sherwinbanfield.com
Instagram: @sherwintheartist
Cercado
Cement, wood, plant material, gravel
Approx. 9 ft. × 6 ft.
Amanda Martínez
AnkhLave Garden Project Fellow
"Cercado" means "ring, fence, or enclosure." Amanda Martínez's Cercado, woven from discarded tree branches and other plant matter, was conceived as an open circular structure that functions as both a sculpture and a sensory space.
Cercado offers shelter and solace to all who enter, especially those who are autistic or have sensory needs. "As an autistic artist, I wanted to create a piece for other autistics, as we are a community not often considered in the design of public spaces," says Martínez. Within the structure, visitors may notice a subtle difference in sound, and can engage in sensory "stimming," or gentle, repetitive touch of the central cast object.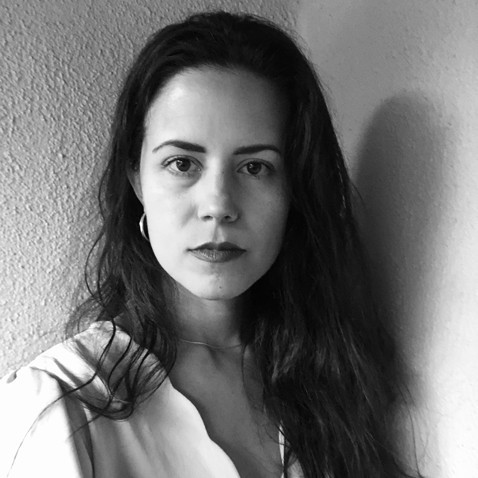 Amanda Martínez completed her BFA at Kansas City Art Institute. Her work has been shown in solo and group exhibitions in galleries, museums, and fairs internationally. She has lectured at Pratt Institute, the School of Visual Arts, and various other institutions, and founded the Autistic Artist Alliance in 2022. She has been awarded residencies across the U.S., and has received grants from the Robert Rauschenberg Foundation and the Autistic Women & Nonbinary Network.
Fingertips that touch the stars
Wire, mesh, soil, sand, limestone, straw, clay
16 ft. × 5 ft. × 3 ft.
Jasmine Murrell
AnkhLave Garden Project Fellow
"The most important thing to learn from trees is that nothing is done alone," says artist Jasmine Murrell. Fingertips that touch the stars was inspired by the stars, the moon, the sun, and all the living organisms that sustain life on this earth, says Murrell, as well as the people whose unacknowledged hands sculpted the land. Oversized earthen hands rise into a refuge for humans and birds in an homage to the interspecies partnership of the greater honeyguide bird and the African people, who have worked together for centuries to retrieve honey embedded in trees.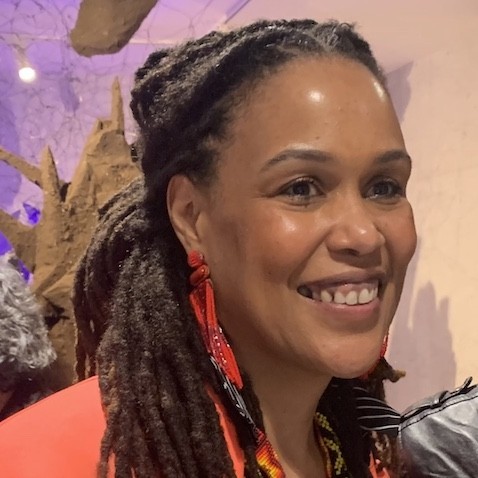 Jasmine Murrell is a Brooklyn-based interdisciplinary visual artist born in Detroit. Her sculptures, installations, photography, performance art, land art, and films blur the line between history and mythology. Murrell has exhibited nationally and internationally in venues including the Museum of Contemporary Art, the Wexner Center for the Arts, the Bronx Museum, the Museum of Contemporary Art Chicago, Witte de With Center for Contemporary Art, the African-American Museum of Art, and the International Museum of Photography.
The Heart of the Tree
Steel, stainless steel, bronze, brass, glass
5 ft. × 5 ft. × 7 ft.
Natsuki Takauji
AnkhLave Garden Project Fellow
Artist Natsuki Takauji grew up interpreting trees as spirits, gods, shelter, or even humans like herself. The personification of nature is fundamental in Japanese mythology and Shintoism. The Heart of the Tree offers the presence of a rooted tree, while its dress-like structure resembles a powerful female figure.
In this sculpture, colored hand-blown glass pieces, resembling IV drips, hang like fruits from a twisted heart-like trunk while also watering a planter inside of the dome. "While the dying tree is alarming and blaming us," says Takauji, "it remains a source of life."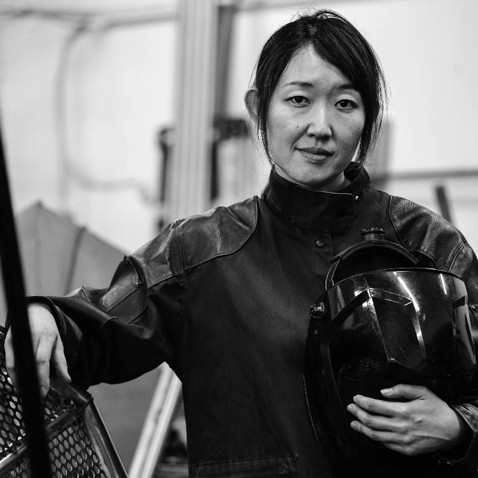 Natsuki Takauji is a visual artist based in New York City. She uses various materials, including metal and fiber. Her most recent exhibitions are at Japan Society, The City College of New York, Kameyama Art Triennale in Japan, CICA Museum in Korea, and Oeno Gallery in Canada. She received her BA at Waseda University in Japan, and studied fine art at the Art Students League of New York.
Artist website: natsukitakauji.com
Instagram: @natsukiuji
Seed of Potential
Richlite (a board comprised of recycled FSC-certified paper dipped in phenolic resin)
5 ft. 3 in. × 9 ft. × 8 ft. 3 in. (The Seed)
6 ft 8 in. × 6 ft. 8 in. × 8 ft. 3 in. (The Emerging Seed)
Seema Lisa Pandya
AnkhLave Garden Project Fellow - Treehouse
Seed of Potential includes two sculptures: The Seed and The Emerging Seed. Their forms were inspired by fractal branching patterns found in nature, as well as artist Seema Lisa Pandya's practice of growing plants from seeds. "Plants can put out hundreds of seeds, but few will germinate," says Pandya. "An idea is like a seed filled with potential: In order to grow and emerge into reality, it needs to be nurtured." Ideas for the future, sourced from community members, are etched on the sculpture.
Seema Lisa Pandya is a Brooklyn-based artist informed by sustainability, biology, and her South Asian culture. Her work includes painting, sculpture, digital media, kinetics, and public art, and has been shown at the Museum of Contemporary Art Long Island, Anderson Contemporary, Pioneer Works, BRIC Arts, Prospect Park, and Governor's Island. Pandya has been featured in Vogue India, Fine Woodworking Magazine, and more. She earned her BFA from Rocky Mountain College of Art and Design.
Artist website: seemalisapandya.com
Instagram: @seemalisapandya
Yunza: Growing Our Roots
Wood, paint, CDs, gold leaf
6 ft. × 5 ft. × 5 ft.
Niceli Portugal
AnkhLave Garden Project Fellow
Yunza: Growing Our Roots was inspired by the Peruvian Yunza, a community celebration that involves loading a tree with gifts and cutting it down while participants dance. "Like the Yunza, this installation aims to bring communities together," says artist Niceli Portugal. Yunza: Growing Our Roots creates a syncretic and multicultural space where visitors can discover their roots, rest, and celebrate the diversity of our city.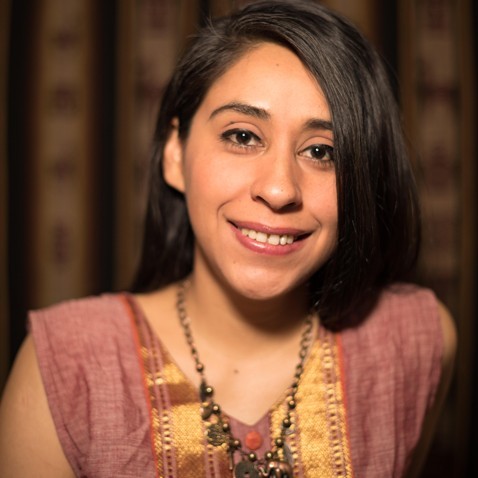 Niceli Portugal is a Peruvian artist and educator based in New York City. She is the education coordinator at Materials for the Arts. Portugal creates intergenerational and multilingual spaces for families to make art, and has worked with Sugar Hill Children's Museum of Art & Storytelling and the Queens Museum. She is also the director of Escuelita en Casa, an initiative in response to the pandemic that provides free tutoring and art classes to families in the United States and Latin America.
Artist website: niceliportugal.com
Instagram: @niceliportugal
From the Curators
"Many species depend on and thrive under the canopy of a single tree. Within a tree resides an entire ecosystem of species that interact in mutualistic arrangements. Nevertheless, this same tree is susceptible to parasites that may drain the system's riches.
Maintaining this protective interdependence is what will yield resources for continued human life on the planet. In the same way, the equilibrium of a protective social tissue leads to a healthy community.
The AnkhLave Garden Project aims to amplify the voices of underrepresented communities that experiment with many possibilities of interactions within their 'canopies.' This project will examine ideal protective canopies, or the lack thereof, and effects on the sustainability of trees and communities."
—Cecilia André, Branching Out curator
AnkhLave Arts Alliance, Inc. is a nonprofit, 501(c)(3) organization founded by visual artist Dario Mohr for the advancement of BIPOC artists in the contemporary art dialogue, with work displayed in BIPOC affinity communities.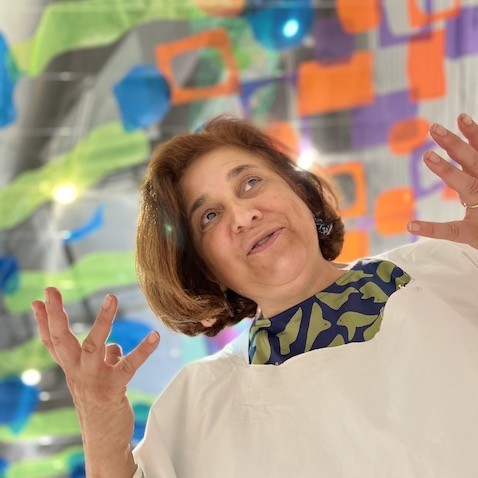 Cecilia André is an NYC-based artist and curator of Brazilian Lebanese descent. Trained as a contemporary figurative painter, she moved into abstraction and mixed media using heirloom textile fabrics and color transparencies.
André has curated two shows called "SCALE within the artist's practice," choosing from a pool of 400-plus New York Artists Circle artists. She was one of the six female immigrant artists selected as an AnkhLave Arts Alliance Fellow and returns to work with AnkhLave as this year's resident curator for their project at Brooklyn Botanic Garden.
Support
Presenting Sponsor, Power of Trees
Art in the Garden is made possible by the New York State Council on the Arts with the support of the Office of the Governor and the New York State Legislature.