Note: The Native Flora Garden is closed to the public during construction. Learn More ›
BBG's Native Flora Garden expansion—a newly planted area that features a cultivated pine barrens and a meadow modeled after Long Island's Hempstead Plains—comes a century after BBG first established its Local Flora Section.
The Native Flora Garden exhibits native plants growing in the New York metropolitan area, a region known for its natural diversity. Highlighting the plants of the Northeast found in three ecoregions: coastal plain, piedmont, and highland, the garden represents a variety of plant communities, including serpentine rock, dry meadow, kettle pond, bog, pine barrens, wet meadow and stream, deciduous woodland, limestone ledge, and conifer forest.
Plants
All plants in the Native Flora Garden are adapted to particular ecological niches based on environmental factors such as topography, geology, soil acidity or alkalinity, moisture, drainage, and light.
Curator Uli Lorimer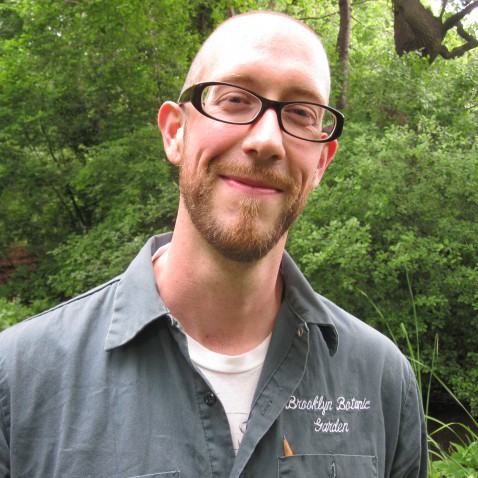 Uli Lorimer is director of Horticulture at Garden In The Woods, in Framingham, Massachussettes. Previously, he was curator of Brooklyn Botanic Garden's Native Flora Garden until early 2019. The Delaware native grew up with an interest in all things green, and after receiving an honors degree from the University of Delaware in landscape horticulture, he moved to New York City to become the woodland gardener at Wave Hill. At BBG, Uli tended the historic Native Flora Garden and was instrumental in expanding it to include a coastal plain meadow and pine barrens habitat. In his ongoing efforts to collect seed from the wild and bring to the garden rare and unusual indigenous species, Uli worked closely with other botanists in the New York region to document and study the biodiversity of our area.
History
A Natural History
Curator Uli Lorimer reflects on the history and future of the Native Flora Garden.
First planted by Norman Taylor as a wildflower garden in 1911, the Native Flora Garden was redesigned in 1931 by Henry K. Svenson as a rambling woodland. The first ecologically themed native plant garden of its kind in the U.S., it was Svenson's vision that only species native to New York City and its environs be included in the display. Due to lack of funding, the Native Flora Garden was closed in 1963 until a grant from the New York State Council on the Arts provided the funding and impetus for the garden's reopening in 1983. The garden's close partnership with BBG's New York Metropolitan Flora Project continues to benefit the collection, as yearly joint field trips into various plant communities enrich the garden with new species and add valuable cultural information about the flora of the region. Shortly after its centennial in 2011, plans were implemented to expand the Native Flora Garden to accommodate habitats that had been slowly shaded out of the garden as the canopy matured. The new expansion includes a coastal meadow, upland pine barrens, lowland pine barrens and pond, serpentine outcrop, and woodland edge.
Image, top of page: